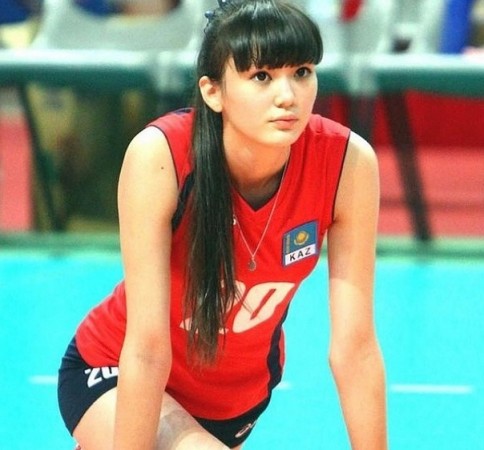 A teenage volleyball player from Kazakhstan has come under scrutiny for being so beautiful that she has become a distraction for the game.
Critics have been complaining that the 17-year-old Sabina Altynbekova has been mesmerizing audiences to such an extent that they feel there are no other players, except her. Even the athlete's own coach says his team was increasingly becoming only about one player, as far as the fans are concerned, the Huffington Post reports.
"It is impossible to work like this," Nurlan Sadikov, the coach told Tengrin News as translated by Daily Mail. "The crowd behaves like there is only one player at the championship." Altynbekova recently turned up in the Taiwanese capital Taipei to compete for her country in the Asian Under-19 Championships.
Kazakhstani volleyball angel, Sabina Altynbekova. look like a cute anime character out of a movie@altynbekova_20 pic.twitter.com/IXtqGKoMc9

— ファリス Fariss (@frizy28) July 27, 2014
Local media – who have also been awestruck by the beauty of the young girl – are devoting almost 10-page picture features about her while artists are running berserk creating anime fantasies of her, the Daily Mail notes.
Meet Altynbekova Sabina, from the Kazakhstan National Volleyball Team! PRETTY! GORGEOUS! ASIAN VERSION OF BARBIE! pic.twitter.com/l3tOGJeanF — Monique Pador (@imMRPador) July 24, 2014
The teen grabbed attention, especially during the recent tournament in Taiwan and became an online sensation. Fans across Asia as well as around the world have taken to Internet to describe how they were taken aback by the young athlete's charms. YouTube videos that show her warming up and giving high-fives to her teammates have received tens of thousands of views.
Our newest Internet crush has the face of an angel...and a last name we can't pronounce: http://t.co/POcxTpxyWo pic.twitter.com/FqrRAwvT0T

— FHM Philippines (@FHMPhil) July 24, 2014
The Straits Times reports that fans were seen coming in droves, absolutely undaunted by rain and heavy winds as Typhoon Matmo passed through Taiwan, only to have a glimpse of the sweet-faced, leggy and pretty-looking player.
whoa RT @rhkilis: Second @pixiv fan art of Sabina Altynbekova http://t.co/vBHju0XbOZ pic.twitter.com/ma1eUSLDwB — AndreasSe†yaRamanda (@andremawari) July 23, 2014
Every photograph of the teen gets so many comments while the Facebook pages claiming to represent her are attracting tens of thousands of followers, especially from China, Vietnam, Taiwan, Japan, South Korea, Malaysia and the Philippines.
Oh Sabina Altynbekova. I will climb you & kiss you. pic.twitter.com/eIlnrbSX2N

— Aliff Hazwan (@AlepHazwan) July 22, 2014
There are numerous Facebook pages claiming to be associated with her and a Twitter account with more than 22,000 followers. But Altynbekova's only official online presence seems to be restricted to an Instagram account and a page on VK, a social networking site popular in Europe, Russia and her native place. She has over 250,000 followers in Instagram.
Penghibur di kala sakit, Altynbekova Sabina of Kazakhstan Volleyball National Team ❤️ [pic] — https://t.co/GABI8lSFa2 — Airlangga Hutama (@ergot7) July 22, 2014