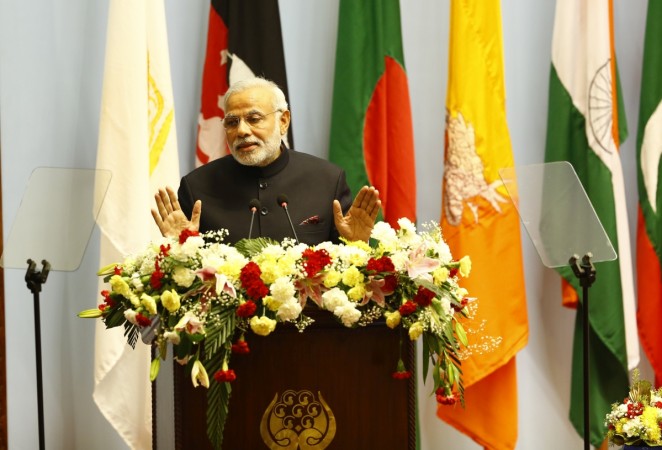 As the proceedings of the 18th SAARC Summit moved into its second day, Prime Minister Narendra Modi's three-pronged strategy with regard to India's immediate neighbours became fairly clear cut.
Ignoring Pakistan; deepening India's ties with other South Asian countries; and improving connectivity with all SAARC countries except Pakistan in an effort to counter China's influence in the region, were the agendas towards which the Indian Prime Minister planned to work towards.
In his speech on day one of the summit on Wednesday, Modi specifically mentioned by name leaders of Nepal, Bangladesh, Sri Lanka and Afghanistan but avoided any reference to his Pakistani counterpart Nawaz Sharif, reports First Post.
Modi's remark on Pakistan was almost a passing one: "South Asia is slowly coming together. India and Bangladesh have deepened their links through rail, road, power and transit. India and Nepal have started a new era of cooperation in energy; and, India and Bhutan are making those ties stronger by the day. With Sri Lanka, we have transformed trade through a Free Trade Agreement. We will soon launch a new arrangement to meet Maldives' need for oil. Distance and difficulties have not held back India and Afghanistan. And, bus and train sustain contacts between people in India and Pakistan."
While emphasising on India's efforts in having a positive relationship with the rest of the SAARC countries, Modi said that the strained relationship between India and Pakistan has encouraged China to take advantage of the situation in a bid to stamp its authority in South Asia of which it is not a part. He also said that the chances of improved Indo-Pak ties seemed unlikely.