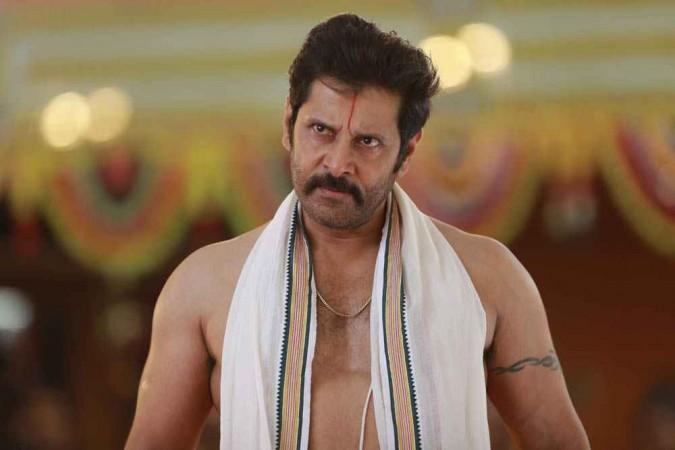 Chiyaan Vikram has reunited with Hari for Saamy Square aka Saamy 2, which is a sequel to their blockbuster movie Saamy. Trisha Krishnan has been replaced with Keerthy Suresh as the female lead in the flick. The movie is produced by Shibu Thameens.
Bobby Simha plays the baddie in Saamy Square as Soori, Aishwarya Rajesh, Sanjeev, Sudha Chandran, Ramesh Khanna, Kota Srinivasa Rao and others are part of the supporting cast. The film has Priyan and Venkatesh Anguraj's cinematography, VT Vijay along with TS Jay have done the editing. Check out new movie Stills from Saamy Square
Story:
Director Hari has come up with yet another action-packed entertainer. Saamy 2. If the first instalment was about the rivalry between DCP Aarusaamy (Vikram) and Perumal Pichai (Kota Srinivasa Rao), their next generation will lock horns in the second instalment.
Aarusaamy is killed by Perumal Pichai's son Ravana Pichai (Bobby Simha) and 28 years later the killer clashes with the fearless cop's son Ram Saamy (Vikram). Their cast and mouse game is the crux of the story.
Review:
Vikram's character posses all the qualities that his earlier role had in the first part. Aishwarya Rajesh has stepped into Trisha's role. The screenplay is not fast like Hari's earlier movies and the director takes time to build the story and relate it with the first part.
Performance wise, Vikram has done an excellent job and Devi Sri Prasad-composed Adhiroobaney and Pudhu Metro Rail songs have impressed the viewers. Check out reader's respone here:
Positives:
Negatives:
- Temple fight and Investigation Scenes
- Vikram delivers excellent performance and his dialogue delivery is top class.
- BGM
- Comedy
- songs
- heroine Characterisation is poor.
Manobala Vijayabalan: #SaamySquare 3/5: Length of 2 hrs 36 mins is a major drawback for this revenge story cum sequel. A crisp run time with proper execution would have made it better. #Soori who is known for bringing laughter to the audience failed here. Songs didn't match even 50% of prequel.
Dinesh Evans: Imagine #Saamy 1st part is remade in #bhojpuri language. And again that movie is remade into Tamil, we get #saamy2. Time for #hari to make movies in Andhra. Please leave tamilnadu. BIG FLOP #SaamySquare
kannan: Trisha's replacement misfired. Keerthy portions worked out well especially #adhiroobaney .1st 1/2 was good. 2nd 1/2 lacked tension/twists. However Vikram & Bobby equalised it with performances. Ravanna bgm & temple fight. #Saamy2 - Usual min guarantee Hari film
Poovanesh Saravanan: #SaamySquare #Saamy2
Hari's asusual screenplay and dialogues but he confused little bit in story line. He mixed some scenes and stories from his previous movies. As usual don't look at logics in commerical movie.
Verdict - Good 1st half with Decent 2nd half.
Rating - 2.75/5
Vikram's acting, screen presence and dialogue delivery awesome. Not much scope for Keerthy but she looks good and cute and did her job. Aishwarya is ok. Bobby Simha rocks after Jigarthanda.
Songs r not great but BGM is good from DSP especially Bobby theme.
Action packed commercial police story. Movie started with continuation of first part and moved to 2nd part. That transition and Intro of each character is good. Pre interval block la Sema soodu paranthu it continued after interval also
Chandrasekar Hemanat: #saamysquare Expect Vikram, Bobby Simha & DOP, rest of all the things in the movie are being biggest mistakes for this project.. #DirectorHari pls keep aside police subjects for a while, concentrate on good movie like Thamarabharani..
Jeya Suriya: #SaamySquare
Songs were Terrible. Songs in the first part were classic and they were making the audience flow in to the theatre. 'Milaga Podi' 'Adhiroopane' 'Metro Railu'
DSP - Na Enna solluven?? "Shaktiman, Pokemon..."Enna man Theme Music Idhu?Ennamo Po pa!
Trisha in the film could have given us more authenticity to the character!
#SaamySquare - The biggest minus of the film were songs, comedy and romantic portions.
Soori and Keerthy portions were giving us a huge patience test!
Director Hari is known for his screen construction. The way he constructs a scene will always be unique and massive. There's only one scene that way!
#SaamySquare
Venkatramanan: #SaamySquare -
Commercial presentation from the director, aggressive cop with the usual intelligence and fast screenplay template from Hari gives it the sequel touch with the connect.
Ramesh Bala: #SaamySquare [3/5] : #BobbySimhaa is good.. His #Colombo backdrop is an interesting element..
@KeerthyOfficial - Whatever written for her role, she has done well..
@aishu_dil in a short, but emotional role..
#Soori - Not his best outing..
#SaamySquare [3/5]: A Proper sequel.. II starts where I ended..
#ChiyaanVikram rocks as the ever green #Aarusaamy and the 2nd generation #Ramasaamy
The movie is mostly an one man show of #ChiyaanVikram
#SaamySquare 1st Half: Starts with a quick recap of #Saamy @aishu_dil replacing Trisha..
A proper sequel..
#ChiyyanVikram as the Mass #Aarusaamy and the class #Ramasaamy is pure gold..
Theri interval block.. Story is set for an explosive 2nd half..
#BobbySimhaa is good..
Kollywood Headmaster: #SaamySquare A neat sequel of #Saamy. Chiyaan Vikram carries the film with his massy looks and powerful dialogues. Interval block is too good and film propels in top speed once tirunelveli phase enters. @KeerthyOfficial is charming along with @aishu_dil
sidhuwrites: #SaamySquare Interval: Good going. Hari pins us into the film with his old-fashioned yet engaging screenplay, the comic track is the only big hurdle. #ChiyaanVikram takes it by the horn with an amazing screen presence!
Prashanth Rangaswamy: #SaamySquare Interval - Soori is the speed break. Otherwise - Thalaivar Hari is back with a bang !!!! Story line and screenplay , Bobby Simhaas performance and the BGM for him. Oor side audience are going to love this !!! .
A hari movie sitting in the second row. Gokka Makka. Here we go !! #SaamySquare .
Here we go. #saamysquare . Nothing like watching early morning shows .
Kaushik LM: #SaamySquare 2nd half is better compared to the first half.
Ultimately it's Majestic #ChiyaanVikram's one man show. He ROCKS!
Dir #Hari could've utilized his screen presence and mass appeal way better..
Watch it with no expectations of the first part's high level and standard!
#SaamySquare 1st half - #Hari unflinchingly sticks to his loud, over the top, unabashed filmmaking style and scene treatment.
#SaamySquare 1st half - The MASS interval block gives fuel for the 2nd half and makes us sit up.. Action shifts to Tirunelveli.. #ChiyaanVikram to take charge..
Spiderman Superman Pokémon nu neraya versions pogudhu indha BGM la.. Paah.. #SaamySquare
Christopher Kanagaraj: #SaamySquare - Vikram's screen presence is amazing. Nothing much abt Keerthy. Aishwarya R fails to replace Trisha. Simha scores. Soori's comedies r headache. Worst songs 4m DSP. Hari's regular style of screenplay with no proper storyline. Decent 1st half & Disappointing 2nd hlf!