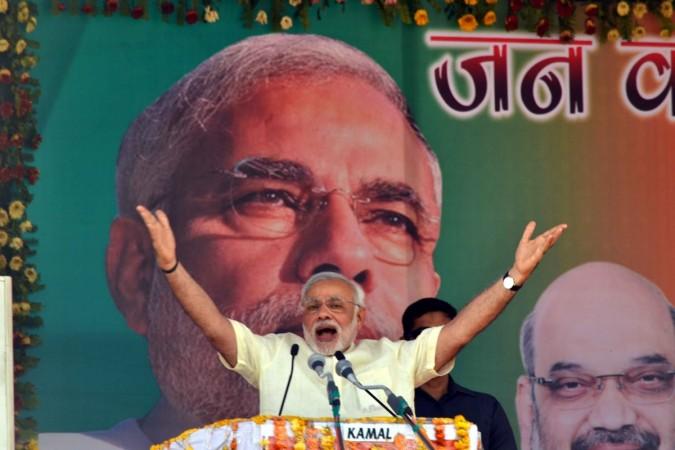 Narendra Modi took oath as the Prime Minister of India on this day, a year ago, promising to change the picture of the corruption-ridden and economically struggling nation.
During Modi Sarkar's one year of governance, many promises made by the Prime Minister were fulfilled. Listing a few in his letter to the people of India on the occasion of completing a year in office, Modi said that they "have been able to restore Trust in the government".
The Prime Minister said that his government took charge of the nation when its political and economical status was at all time low. In the letter, he claimed to have mended it all in a year and is moving ahead with the aim of taking Indian politics and economy to a new level.
"We assumed office at a time when confidence in the India story was waning. Un-abated corruption and indecisiveness had paralyzed the government. People had been left helpless against ever climbing inflation and economic insecurity," the letter said.
"We systematically went about addressing these challenges. Runaway prices were immediately brought under control. The languishing economy was rejuvenated, building on stable, policy-driven proactive governance. Discretionary allotment of our precious natural resources to a chosen few was replaced with transparent auctions," it added.
Writing about black money, which was one of the major points on his administration's agenda during election campaigns as well as government formation, Modi said he had taken several major steps to fulfil his promise of bringing the illegally earned cash stashed in foreign accounts.
Moreover, he said his government is corruption-free, which works solely for the people of India and its development.
"Firm steps were taken against Black Money, from setting up a SIT and passing a stringent black money law, to generating international consensus against the same," the letter said.
"Uncompromising adherence to the principle of purity, in action as well as intent, ensured a corruption-free government. Significant changes have been brought about in work culture, nurturing a combination of empathy as well as professionalism, systems as well breaking of silos. State governments have been made equal partners in the quest for national development, building the spirit of Team India," it added.
He further counts on his government's dedication to uplift the poor, boost educational sector, connect the regions cut from the rest of the country through rails and roads, development of smart cities and many others.
Modi ends the letter with a hope and promise to give the people of India a nation of their dreams.
"Friends, this is just the beginning. Our objective is to transform quality of life, infrastructure and services. Together we shall build the India of your dreams and that of our freedom fighters. In this, I seek your blessings and continued support," he said in the letter.