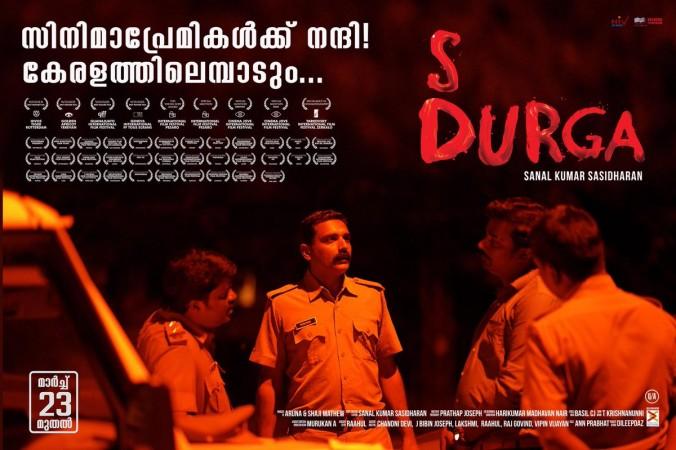 Sanal Kumar Sasidharan's controversial movie S Durga, which was earlier titled Sexy Durga, is finally seeing the light of the day on Friday, March 23. The movie is being released in 40 screens across Kerala with the support of about 25 groups comprising of cine enthusiasts and film societies.
S Durga has been screened at many international film festivals and has earned appreciation. But the movie was denied permission to be screened at the International Film Festival of India 2017 stating that it could create law and order problems.
After facing many obstacles, the movie was certified by the regional censor board and asked the makers to change the title. The film is given a 'U/A' certificate.
S Durga has Rajshri Deshpande, who made her Mollywood debut with 2015 film Haram, and Kannan Nayar in the leads. Vedh, Sujeesh KS, Arun sol, Bilas Nair, Baiju Netto and others are in key roles. Basil Joseph has composed the music, Prathap Joseph has handled the cinematography, while the director Sanal Kumar Sasidharan, has also handled the editing.
The movie narrates the story of a north Indian girl named Durga and a Keralite named Kabeer, who elope at midnight. Two small-time gangsters offer them help them catch a train. A series of unfortunate incidents that take place after the ride forms the crux of the movie.
The movie was shot without any solid screenplay or a written story. Rajshri Deshpande and Kannan Nayar play main characters in the Malayalam movie which is said to expose the predominantly patriarchal society of Kerala.
Reviews:
The first show of the movie will start shortly.
Martin N Joseph
‏
#SDurga - Brilliant piece of work. Hats off to @sanalsasidharan !!❤ #MustWatch