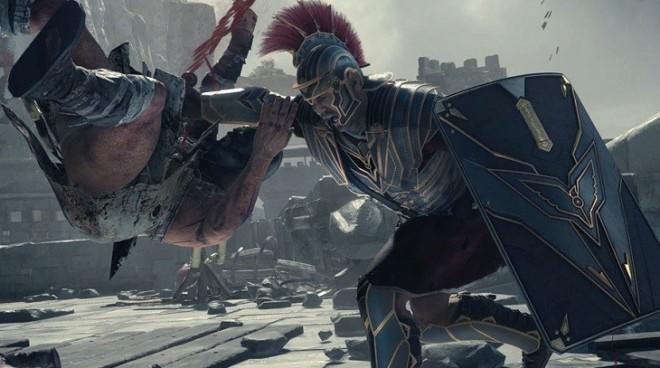 Hack and slash title from developer Crytek, Ryse: Son of Rome will get a new downloadable content (DLC) titled Morituri Pack. The pack was released on 30 May.
The new DLC will be adding five new multiplayer maps to the game. Three new maps for the Gladiator mode arenas include:
Beacon – Set in a barbarian camp.
False Gods – Has Egyptian setting.
Revolution – Set amid Roman ruins.
Apart from this, the DLC will include two Survival mode maps:
Sulfur River and The Forbidden Forest – is full of traps and battle the odds.
The DLC brings modification to the solo mode too and it includes Beacon, Revolution, False Gods, Market and Garden. Players can now use the battle armor of Oswald, King of the Britons for their gladiators. The Morituri Pack DLC costs $7.99.
Meanwhile, Crytek has also hinted at several Easter eggs in the game. It has said that there are a combined total of nine Easter eggs with six of them in the campaign mode and three in the Gladiator mode.
Players have until now found five of them, said Microsoft in a post. It said that the following Easter eggs have been found and also gave its locations in the post:
The Dancing Ladies
The Special Pot
The Streaker
The Sword in the Lake
The Ghost Army
Further, Crytek has also provided hints of the other Easter eggs in the game. This Xbox One exclusive was released on 22 November 2013.
Blue Estate Novel to be Made Rail Shooter
Viktor Kalvachev, the creator of the dark, comic, graphic novel, "Blue Estate" has said that it will now be adapted into a novel.
"It takes only seconds to get used to and hours to master. You basically point the controller and squeeze the trigger; you don't ever have to use the joysticks. For all the gestures we're using the touch pad, which gives the opportunity for unique gameplay experiences, depending on how players choose to hold and interact with the controller," said Kalvachev, in a post on PlayStation Blog.
The novel will be adapted into a rail shooter for PlayStation 4 and Xbox One and it will be making good use of the DualShock 4's gyroscope functions in PlayStation 4.
The game will be narrated by a private detective who is himself a subbed of investigation by Federal Bureau of Procastination. The game will be having two playable characters named Tony and Clarence.