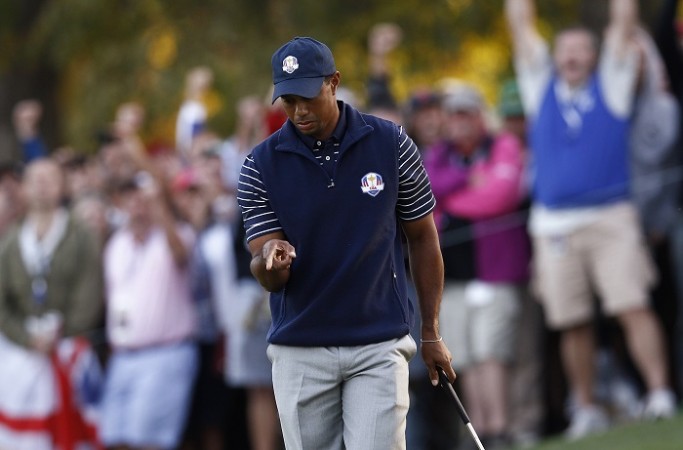 The Ryder Cup 2016 might have some of the biggest names in golf battling it out for one of the most coveted prizes in the sport, and while some fantastic play is inevitable, there will be one man who will be under the spotlight, even if he will not pick up a club to bring that swing into play even once during the tournament.
Tiger Woods was ruled out of participating in the Ryder Cup for the United States, owing to a long-standing back injury, leading to the American team's captain Davis Love III naming him as one of his vice-captains, in order to ensure the players would be able to pick the brain of one of the all-time greats of the sport.
However, with that decision comes the problem of dealing with the increased scrutiny. Everything Woods, who recently announced his long-awaited comeback from injury, does during the Ryder Cup in Hazeltine will be talked about, even if it might just be a random ride in the golf cart.
"We have a strategy for him at the Ryder Cup," Love said when asked how he plans to deal with the extra attention that will come the 14-time major winner's way. "We know this is going to be different.
"It's a lot different than Davis Love being the assistant captain for Corey Pavin [in 2010]. Obviously people recognised me, but if I'm driving a cart it won't create a stir. We're going to have to do a little more planning for Tiger Woods when he gets out there on the course."
That problem, though, might seem well worth it if Woods ends up being one of the reasons behind the US team's victory over Europe, a much-needed one after the latter's recent dominance in the Ryder Cup – Europe have won five of the last six editions of the prestigious tournament.
"I've told Tiger, 'All we have to do at the right time is have you say one thing to these guys,'" Love added. "They just want Tiger to be on their team.
"Everybody wants to play with Tiger. Everyone wants to be around Tiger. Everybody wants to ride around in the cart with him.
"He's Michael Jordan. He's Wayne Gretzky. You just want him on your team."
And Woods is already taking his vice-captain's job pretty seriously. "He has always been very good in the team rooms," Dustin Johnson said of Woods, who, by his own high standards, does not have the greatest of records in Ryder Cup play. "I've been on teams with him and I enjoy it. He already has been texting me a bunch about it.
"The domination he has had, his knowledge of the game, how to play, it's going to be great."