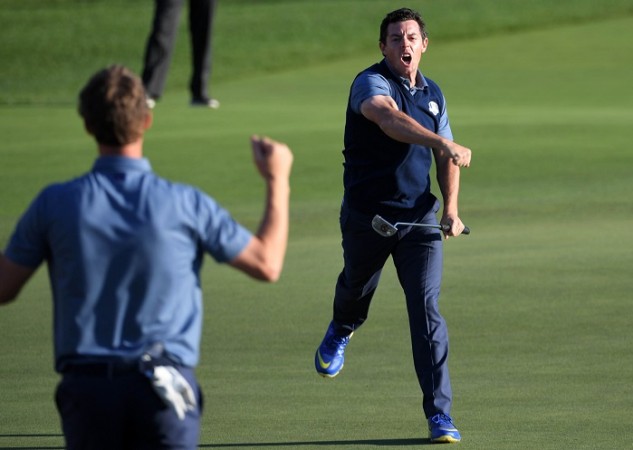 It looked bleak, really bleak, when the US, in their weakest format of the Ryder Cup – the foursomes – took a 4-0 lead against Europe, after playing some brilliant golf. Then came the European comeback in the afternoon, in the fourballs, leaving this Ryder Cup 2016 tantalisingly poised after day one at Hazeltine.
After losing all four matches of the foursomes, something that Europe are really good at, and which they won by 7-1 in the Ryder Cup two years ago, the away team, heckled, booed and baited by the partisan crowd in Minnesota, needed inspiration, and they found that in the shape of their experienced players, with a pinch or three of the rookies sprinkled in there as well.
At the end of the opening day of the Ryder Cup, which produced some stirring golf, USA lead Europe 5-3, with another set of foursomes and fourballs set to be played on Saturday.
After Henrik Stenson and Justin Rose were well beaten by the dynamic duo of Jordan Spieth and Patrick Reed, the Europe pair was given a chance at redemption, and boy did they make full use of it.
The two stepped up their play in the fourballs, making up for the other's mistakes by making outstanding shots of their own, to ease to a 5&4 victory over Spieth and Reed.
"Henrik and I did what we do best," Rose said. "We just stuck with it, trusted our games, trusted ourselves and we got on a little run. We dovetailed beautifully and made a bunch of birdies. I relied on my partner again and he delivered."
"It makes it sweeter, when you beat the guys you lost to in the morning, that's for sure," Stenson added.
That set the tone for Europe in the afternoon, after the Americans had whitewashed the fourballs in the morning, with Sergio Garcia teaming up with his Spanish compatriot Rafa Cabrera Bellow for a 3&2 win over JB Holmes and Ryan Moore, the last captain's pick by Davis Love III.
Darren Clarke would have been fearing the worse, though, when Danny Willett and Martin Kaymer fell to the brilliance of Brandt Snedeker and Brooks Koepka, who made putt after putt to give US a 5-2 lead, with one match to finish.
That match was between Dustin Johnson/Matt Kuchar and Rory McIlroy/Thomas Pieters, and it was the Irish-Belgian duo who came up trumps, with McIlroy sinking a wonderful eagle on the 16th to seal the win and keep Europe within touching distance.
Ryder Cup results: Foursomes: Jordan Spieth/Patrick Reed (USA) beat Justin Rose/Henrik Stenson (Europe) 3&2.
Phil Mickelson/Rickie Fowler (USA) beat Rory McIlroy/Andy Sullivan (Europe) 1up.
Jimmy Walker/Zach Johnson (USA) beat Sergio Garcia/Martin Kaymer (Europe) 4&2.
Dustin Johnson/Matt Kuchar (USA) beat Thomas Pieters/Lee Westwood (Europe) 5&4.
Fourballs: Spieth/Patrick Reed (USA) lost to Justin Rose/Henrik Stenson (Europe) 5&4.
JB Holmes/Ryan Moore lost to Sergio Garcia/Rafa Cabrera Bello 3&2.
Brandt Snedeker/Brooks Koepka beat Martin Kaymer/Danny Willett 5&4.
Dustin Johnson/Matt Kuchar lost to Rory McIlroy/Thomas Pieters 3&2.