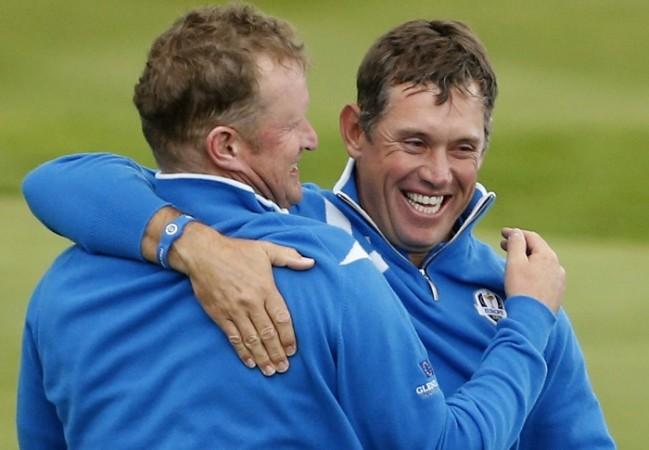 Rory McIlroy and Sergio Garcia will not take the field together on Saturday morning, after their rather tepid displays for Europe on Day One, while Phil Mickelson will watch from the sidelines for the USA team in the fourballs of the Ryder Cup 2014 in Gleneagles in Scotland.
Europe are in the driver's seat after day one of ridiculously exciting action, with the home team, roared on by a wonderful crowd, taking a sizeable 5-3 lead. That lead was secured thanks to some outstanding golf from Europe in the foursomes on Friday afternoon, after they were trailing by a point following the morning's fourballs.
"Something I've learned from Jose Maria Olazabal, from Monty (Colin Montgomerie) and from the guys I've been vice-captain under and guys I've played under is that you're not going to win every session," Europe captain Paul McGinley said.
"We've lost more sessions than we have won in recent times but it's important not to panic and it's important to look at the 24-hour period rather than just one session and then assess and go again.
"I had an overall, as I call it, a skeleton plan. What I saw in the morning, I still thought there was no reason to change that. I wanted to get all 12 players out on the course today and we did that. Now I feel we're in a better position to adapt and make decisions going forward."
It will be interesting to see just how McIlroy will adapt with his new partner Ian Poulter, after the world number one and world number three Garcia struggled on the course on Friday, only managing a half point from two matches. McIlroy and Poulter will take on Jimmy Walker and Rickie Fowler in the final fourballs match of Saturday.
It is essential for Europe that McIlroy finds his mojo soon, because an in-form McIlroy will just put that little bit of extra fear factor in the USA team, who will know they need to play better team golf if they are to claw back the deficit.
Someone who won't be helping them bring back that scoreline to a more even keel on Saturday morning will be Mickelson, who has been rested for the first session, after the "Leftie", who created an American record by appearing in his 10th Ryder Cup, played both the fourballs and foursomes on Friday along with Keegan Bradley.
That decision was met with a bit of a surprise, with USA skipper Tom Watson electing not to play rookies Jordan Spieth and Patrick Reed, who were might impressive in the fourballs.
Reed and Spieth will be in action on Saturday morning, though, with the young duo taking on Thomas Bjorn and Martin Kaymer, who threw away a big lead on Friday morning to eventually settle for a half point.
Justin Rose and Henrik Stenson, so impressive on day one, will open proceedings again against Bubba Watson and Matt Kuchar, with the second matchup an interesting one between Jamie Donaldson/Lee Westwood and Jim Furyk/Hunter Mahan.
Westwood was the mentor extraordinaire again in the foursomes on Friday, making Donaldson feel right at home, with the Welshman showing incredible skill and nerve to help Europe to a point on his Ryder Cup debut.
"Jamie relished and was very fortunate to have a guy of Lee Westwood's calibre on his shoulder in his first Ryder Cup match," McGinley added.
"It's no coincidence that Nicolas Colsaerts had 10 birdies playing in his first Ryder Cup match with Lee Westwood at Medinah. That's why I put Lee out first.
"Just Lee's presence makes these guys relax and play great but Lee also played absolutely fantastic."
Saturday morning schedule: Fourballs: Justin Rose and Henrik Stenson vs Bubba Watson and Matt Kuchar (7.35 am local time, 12.05 pm IST, 2.35 am ET tee off)
Jamie Donaldson and Lee Westwood vs Jim Furyk and Hunter Mahan ((7.50 pm local time, 12.20 pm IST, 2.50 am ET)
Thomas Bjorn and Martin Kaymer vs Patrick Reed and Jordan Spieth ((8.05 am local time, 12.35 pm IST, 3.05 am ET)
Rory McIlroy and Ian Poulter vs Jimmy Walker and Rickie Fowler (8.20 am local time, 12.50 pm IST, 3.20 am ET)
Where to Watch Live
The Ryder Cup 2014 Day 2 is set to start at 7.35 am local time (12.05 pm IST, 2.35 am ET) with live coverage in India on Ten Golf. Viewers in India can also catch all the action via live streaming online on Ten Sports Live.
UK viewers can catch the Ryder Cup action on Saturday on Sky Sports Ryder Cup [or the artist previously known as Sky Sports 4], with the entire day's action beamed live on the network. The Europe vs USA battle can also be watched online via a live stream on Sky Go and Sky Sports Online.
US viewers can grab a cup or three of coffee and watch Day 2 on NBC, with the live streaming option on NBC Sports Live Extra.