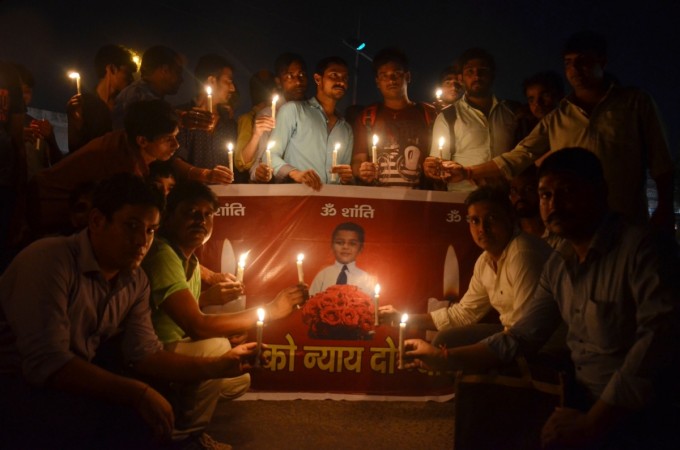 The Ryan International school murder case witnessed another big twist on Monday as the juvenile accused of murdering the seven-year-old boy Pradhyuman retracted his confession and said that he was forced to confess, according to media reports.
Pradyuman, a Class 2 student of Ryan International School, was found lying in a pool of blood in a toilet in the school on September 8 with his throat slit. The incident triggered angry protests by parents who were left shocked by the ghastly murder and demanded a CBI probe into the incident.
The initial investigation by Gurugram police officials branded the school's bus conductor Ashok as the prime suspect in the case, however, the CBI, in a major twist last week revealed that it had detained a Class XI student of the same school for murdering Pradhyuman. The probe agency had claimed that the suspect, who is 16 years old, confessed to the crime in front of his father and another independent witness.
The accused, however, told CBI officials and a legal-cum-probation officer appointed by the Juvenile Justice Board that the investigators had forced him to confess to the murder, according to the Hindustan Times reports. He added that the investigators had beaten him and recorded the confession in their own words.
The legal experts said that a confession made before a police officer is not considered as an evidence. However, if it "leads to the recovery of any article connected with the crime, the confession can have a little more credibility. But even then the investigating agency will have to prove the case against the accused beyond doubt," said Karan Singh, a lawyer.
The report stated that the accused on Monday gave a different version of the events. He said that when he went to the washroom of the school, he heard the screams of a boy who was vomiting blood, and then he rushed out and told a gardener, and then informed a teacher.
The CBI last week said that after inspecting the crime scene, the CCTV footage, questioning people and analysing the movement of the students near the crime scene, it had apprehended the accused boy for the crime.
The CBI on Monday had also said that the juvenile had looked up methods to remove fingerprints from the weapon that he intended to use to commit murder, according to an HT report.
"Investigators suspect that after killing the student by slitting his throat, the accused deliberately threw the weapon, a knife which he procured a day before the murder from Sohna, in the commode of the toilet where the incident took place on 8 September," a CBI source had said.