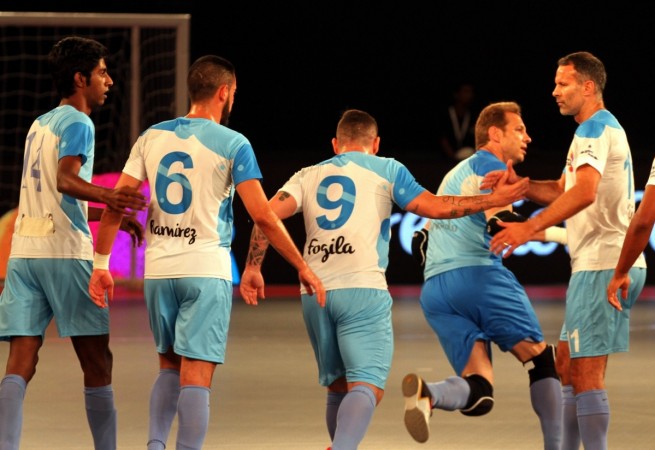 The first edition of Premier Futsal came to a dramatic end, with Mumbai defeating Kochi 3-2 in penalties, after the final ended 1-1 in regulation time in Goa. This loss will be a huge disappointment for Kochi, who maintained 1-0 lead for the majority of the match, only to concede a goal in the dying minutes, and later lose in the penalty shoot-out.
The game was played in a high-tempo, and there were plenty of chances for Mumbai and Kochi to score more than their respective solitary goal in 40 minutes of normal time, but both the goalkeepers – Luis Amado (Mumbai) and Casalone (Kochi) – stood tall to make some huge saves. However, it was quite unfortunate for Casalone, whose penalty miss gave Mumbai the title.
It was Kochi, who were out of the blocks quickly, and Amado was busy in the first five minutes of the final. Kochi were a constant threat, and Mumbai were not able to put pressure. Kochi managed to break the deadlock as Deives Moares scored in the eighth minute to help his team take lead.
Mumbai came close to drawing level in the second quarter, but Adriano Foglia's hard shot hit the post. It was a brilliant effort from the futsal star, who was one of the best players in the competition. Angellot, with his dazzling skills, was in fine form, creating chances for his team, and he was taking shots from long distances as well, but to no avail. On the other hand, Amado was keeping Mumbai in the game with some solid saves.
Though Mumbai were a better outfit in the second quarter, they could not score any goal. Despite an open game in the first two quarters, Kochi went into the break with a one-goal lead.
Kochi's Michel Salgado found the back of the net in the third quarter via a direct free-kick, but it did not count as the referee had given an indirect one. Had that goal been legal, it would have been difficult for Mumbai to make a comeback.
Angellot dribbled past the defenders, but he could not get the better of Kochi defenders, who looked solid at the back, in the final minute of the third quarter. Kochi players were desperate not to concede any goal as their players put the body on the line to maintain that 1-0 lead.
It was now or never for Mumbai, who had to score a goal in the final 10 minutes to take the game to penalties. Angellot finally found the back of the net with 90 seconds remaining for the final to end. Mumbai deserved the equaliser, as they had more than 25 shots on goal in the title-decider.
With the game ending 1-1, the final was decided on penalties, and Mumbai clinched the Premier Futsal title in a dramatic penalty shoot-out.