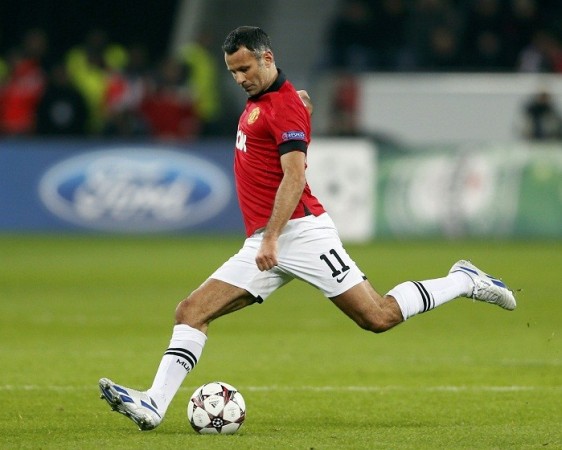 As Ryan Giggs prepares to celebrate his 40th birthday, it is hard to imagine, looking back at the wonderful career that he has had, the Welsh midfielder coming out to play club football in any jersey other than the one of Manchester United.
It has been over 22 years since Giggs walked out in United colours - he made his debut at the tail end of the 1990-91 season -- and the funny thing is there are absolutely no signs of the Welshman stopping, as his performance in the Champions League game against Bayer Leverkusen, a club sitting second in the Bundesliga, only behind Bayern Munich, showed.
Giggs controlled the game in midfield, and his passing was as good as it has ever been. Giggs of course started the game as a tearaway winger, able to beat pretty much any defender with his pace.
However, as father time has come calling, taking away that searing pace, he has tailored his game accordingly, moving to the centre of midfield, and utilising that wonderful vision, which he has always had, and the experience which he has garnered over the years, in a similar way to which Sachin Tendulkar evolved with his batting as time moved on - from a young attacking tyro who wanted to hit every ball out of the ground, to a more cultured, controlled, yet still aggressive, batsman.
"People will always question Ryan's age but you can't question him as a footballer," United manager David Moyes said. "He's fantastic. I thought he did brilliantly [against Leverkusen], in everything he did. He didn't look fatigued, he's a terrific all-round player.
"He is unbelievable. You could even say he is getting better. His vision and pass for the last goal for Nani was superb. And his fitness is also incredible. I am lucky to be working with him.
"The situation with Ryan is he keeps playing and he will tell us when he's had enough or his time is up. He keeps training and playing and his performances have been great."
A member of the famous United "Class of 92", Giggs has been on a rolling one-year contract for a while now, and the way he is going, signing another deal to stay on for a further season is very much within the realms of possibility.
The midfielder, who turns 40 today, believes his longevity is all down to the fact that he has played his entire career at one club. "If I'd moved from club to club I'd be finished by now," he said. "I'm lucky that I have been at one club, where I am surrounded by good players. I also have a good manager.
"I look after myself and try to train every day in order to make myself available for selection. I enjoy it as much as I can and, of course, try to contribute to the team. I still want to do well in every game, want to win trophies and my focus needs to be on that."
Giggs is the last remaining active player of that "Class of 92" which saw the likes of David Beckham, Nicky Butt, the Neville brothers Gary and Phil and Paul Scholes all fashion brilliant careers for themselves.
"I don't know what the younger lads think of me," Giggs added. "When I was 17 and 18 I thought 31 was ancient. Here I am at 40. It can be hard sometimes but I am still enjoying it. As long as that is the case I will carry on."