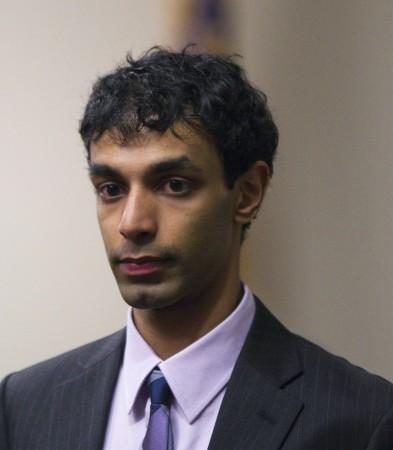 The New Brunswick court Monday sentenced a former Rutgers University student, Dharun Ravi, to 30 days of imprisonment for allegedly spying on his gay roommate using a webcam.
In 2010, Dharun Ravi spied on his roommate Tyler Clementi and captured his gay sexual encounters in their dorm room and later posted them on twitter for his university friends to watch it online.
Following the incident, Clementi, 18, committed suicide jumping from the George Washington Bridge in September 2010.
After a four-week-long trial in the court, a jury convicted Dharun Ravi on 15 criminal counts including invasion of privacy and bias intimidation in March this year.
On Monday, Judge Glenn Berman in a New Brunswick court gave him a sentence of just 30 days in prison, considering that his actions were not a hate crime that could have fetched him nearly 10 years imprisonment.
"I do not believe he hated Tyler Clementi. He had no reason to," Berman said. "But I do believe that he acted out of colossal insensitivity."
"But I heard this jury say 'guilty' 288 times -24 questions, 12 jurors - that's the multiplication. And I haven't heard you apologize once," he told Ravi according to The Star-Ledger.
Both Dharun and victim Clementi's parents were present in the court during the hearing. Dharun's mother Sabitha Ravi sobbed while the judge gave the verdict.
"Dharun's dreams are shattered and he has been living in hell for the past 20 months," the New York Daily News quoted Sabitha, as saying. "As a mother I really feel that Dharun has suffered enough."
Clementi's parents, who were unhappy with the judgment, had earlier said that they were seeking justice for their son.
"The devastation of the loss of my son was more than I could bear. I felt like a piece of me died," Clementi's mother told the daily.
The judge said that he wouldn't recommend Ravi to be deported to India (his birthplace) as he has spent most of his life in the United States.
However, he imposed three year probation and 300 hours of community service on him.
In addition, the court ordered him to pay a fee of $10,000 which will go to a facility dedicated to victims of bias crimes and attend counseling regarding cyber bullying.