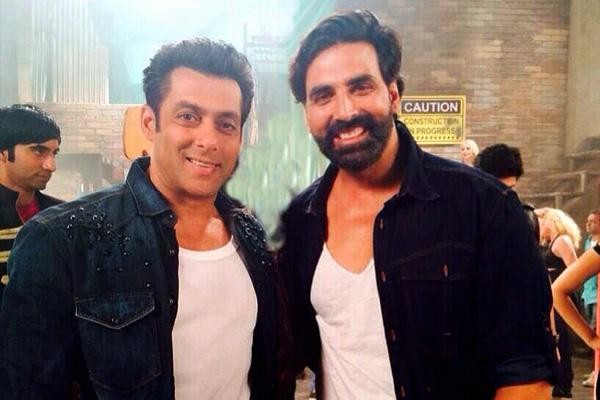 Akshay Kumar has responded to Salman Khan's recent remark wherein he called Akshay the "real sultan" of Bollywood. The "Rustom" actor called Salman "large-hearted," and asserted that he is the real sultan.
"I think it's his greatness that he said something like this. How large-hearted guy he is. See I did MMA in 'Brothers', but uski chal gayi and he is the real Sultan," Akshay told media when asked to comment on Salman's compliment.
Earlier, Salman had said that Akshay is the real Sultan as he does at last three films a year and his movies also become big hits. Some time back, Salman had praised Akshay's "Rustom" trailer as Catch News quoted him saying, "I watched the trailer of 'Rustom' recently on TV and Akshay is outstanding. I am really looking forward to it."
Akshay too had appreciated stardom of the Khans in an interview with Hindustan Times saying: "To compete with your peers is to play a fool's game. The Khans are a force to reckon with. They are the 'Khans' for a reason. I have never competed with them. It would be wrong of me to want to do that. I know who I am, and I know where my name and effort can take me. I'm more than happy with my space in this world."
Salman's latest release "Sultan" has had a record-breaking opening at the box office and is still running strong. On the other hand, Akshay is busy with the promotions of his upcoming flick "Rustom."
The film is based on real-life incident of Nanavati murder case. Akshay plays the character of Naval officer K.M. Nanavati and Ileana D'Cruz will be seen as his onscreen wife. "Rustom" also features Esha Gupta and is slated to be released on Aug. 12.