Russia has developed a new stealth underwater drone which, according to the authorities, is practically invincible. Vladimir Korolyov, the commander in chief of the Russian navy, said that the new unmanned underwater drone is equipped with a new nuclear engine and is nearly impossible to intercept.
According to Korolyov, the drone will have an unlimited travel range while featuring a low noise profile but with high maneuverability. All of these traits will help it silently approach its targets, Korolyov added.
"The new targeting system being developed specifically for this weapon will allow for the underwater devices to autonomously approach targets and destroy them with high precision," Sputnik quoted Korolyov as saying.
The drone, which "will allow the Navy to complete a wide spectrum of tasks in remote maritime zones and in water areas in the vicinity of enemy territory," is scheduled to be introduced into the Russian Navy after it's thoroughly tested. All elements of the system are manufactured in Russia, the navy chief added.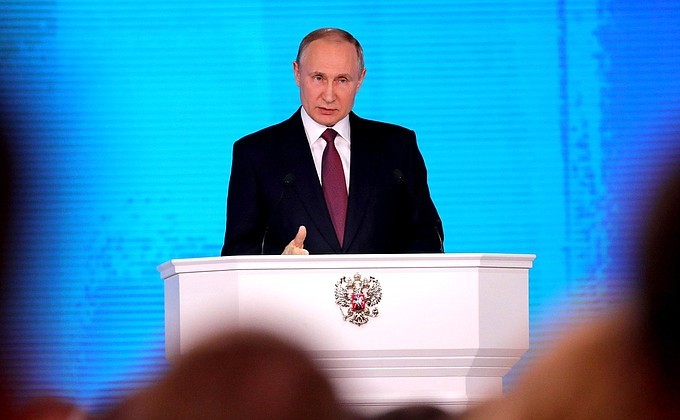 In his annual address to the Parliament on March 1, Russian President Vladimir Putin presented a range of advanced weapons, including hypersonic missiles, extremely long-range intercontinental ballistic missiles and weaponized lasers.
When it comes to the drone, Putin said that it had an "intercontinental" range and could carry a nuclear warhead, targeting both aircraft carriers and coastal facilities. According to him, the drone's speed is at least 10 times higher than any other similar vessel.
"No one in the world has anything like that," Putin said. "It may appear someday, but by that time we will develop something new."
One of the most advanced weapons unveiled by the Russian leader was a new hypersonic missile called Avangard, which can hit targets "like a meteorite, like a fireball" flying at a speed 20 times faster than that of sound.
In addition, Putin also unveiled a new heavy intercontinental ballistic missile (ICBM) called Sarmat. Weighing 200 metric tons, the new ICBM can carry more nuclear warheads than its predecessor, Satan.