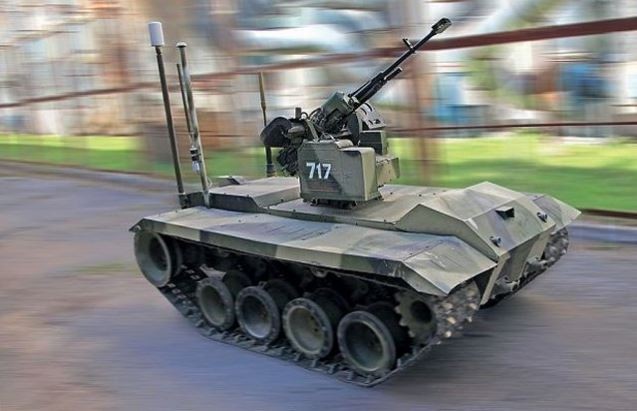 Nerekhta robot represents the vanguard of the Russian armed forces' new-age military vehicles as it ups the ante against the US and NATO forces in Europe. The robot will be part of Russia's Future Soldier equipment.
The Nerekhta is a gun-toting reconnaissance robot and it means serious business as it can take aim and fire on enemy targets with its 7.62mm and 12.7mm machine guns.
Nerekhta weighs 272kg and is over 3ft long. Powered by an electric motor, the robot can hit 11km per hour.
This robot can be used as a support vehicle for Russian Special Forces when they are carrying out combat operations. It will also be able carry explosives and can detonate itself.
"The light tracked platform has been used as a mobile target from the outset, but at the military's request we have tailored it to carry radio-controlled explosive devices. The robot is in in-house trials, and we continue to improve it," said Dmitry Fufayev, Deputy Chief Designer for Robotics, Armyrecognition reported.
The robot will also be featuring an air component and will include additional automation elements, Igor Denisov, Deputy Director General for Advanced Research Fund told Sputnik.
Russia is working to improve the artificial intelligence (AI) of the robot, La Magra reported.
Russia recently unveiled Uran-9, an unmanned combat ground vehicle based on the BMP-3 infantry fighting vehicle (IFV).
The Uran-9 is equipped with an advanced remote-control sensor package device. It also features 30 mm Shipunov 2A72 automatic cannon, a coaxial 7.62 mm Kalashnikov PKT/PKTM machine gun, and six ready-to-launch 9M133M Kornet-M (AT-14 Spriggan) anti-tank guided missiles, IHS Jane's International Defence Review reported in September 2015.
In 2014, Russia unveiled the Taifun-M unmanned ground vehicle, a remote sentry tasked to guard RS-24 Yars and SS-27 Topol-M missile sites.