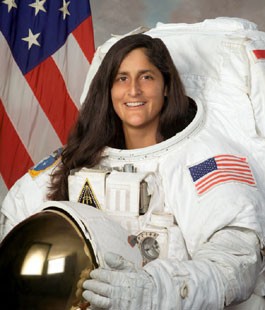 After two days of voyage into space on a Russian spacecraft, world famous Indian-American woman astronaut Sunita Williams and her two colleagues Yuri Malenchenko and Aki Hoshide reached the International Space Station (ISS) on Tuesday.
The trio docked their Soyuz TMA-05M spacecraft to the Rassvet module at around 10:21 IST.
The hatches between the Soyuz and the Rassvet module opened at 3:23 a.m. following which Commander Gennady Padalka and Flight Engineers Joe Acaba and Sergei Revin received their new crewmates.
Meanwhile, a six-member crew will also organise a welcome ceremony with family and mission officials, who will later participate in a safety briefing.
Williams along with her crew on Sunday took off from Baikonur Cosmodrome, Kazakhstan on a Russian spacecraft, Soyuz TMA-05M, at 8:40 a.m. for a four-month mission.
The launch and docking of Expedition 32 coincides with the 37th anniversary of the Apollo-Soyuz Test Project, the first docking of an American spacecraft with a Russian spacecraft. An Apollo spacecraft from Kennedy Space Center and a Soyuz 7K-TM vehicle from Baikonur Cosmodrome launched on July 15, 1975, and were then docked two days later.
Expedition 32 is the second space odyssey for 46-year-old Williams, who already holds the longest space-flight record of 195 days among the women astronauts.
Williams will stay on the space station till November 12 according to NASA sources. With the US President Post set to go to polls on November 6, she will be voting from space itself as a Florida-registered voter.
When asked about this in her pre-flight interview, Williams said, "We'll, there's a program called Voting from Space, we're working through it right now. I'm a, actually a Florida voter so it, we had to have a little bit more work involved-Texas has already, worked through the process-and I, I will actually be voting from space."