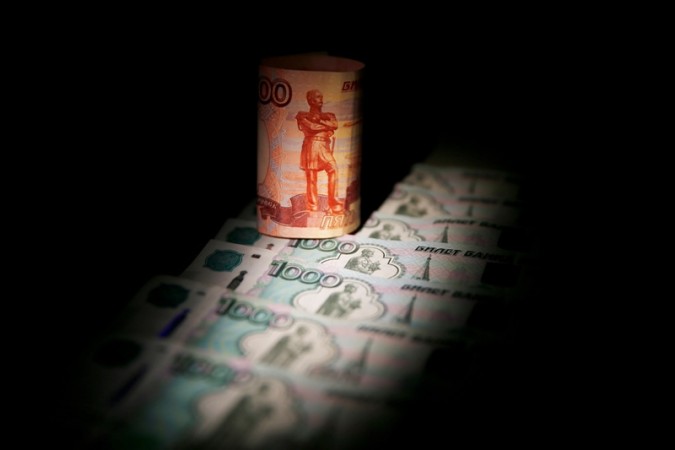 The Russian ruble fell to a new 16-year low on Wednesday despite the government's frantic efforts to prevent a slide, reflecting a possible weakness in Putin's power grip over the region.
The ruble weakened 6.3 percent to 72.2 per dollar even after the Russian administration raised benchmark interest rates from 10.5 percent to 17 percent on Tuesday. The ruble lost 11 percent against the US dollar on Tuesday and has fallen 50 percent this year. Experts believe the currency is now in freefall.
Timothy Ash of Standard Bank London told Fox News that the fall of the ruble was "the most incredible currency collapse I think I have ever seen in the 17 years in the market, and 26 years covering Russia."
In a televised message, the government asked Russians to stay calm adding that there was no need to worry. The administration said that a weak ruble was good for the economy because it will boost domestic production and make exports cheaper and that it was doing everything to control the situation.
The Russian Central Bank also said that the higher rates would increase inflation eventually but wouldn't have an immediate effect. Experts say the rate-hike and falling currency will hit the middle-class the most eventually and though there hasn't been any public display of discontent yet, the current state of affairs could threaten Putin's power.
"I think he has a store of support that can last 1-1/2 to two years. We will see the first signs of discontent in the spring," Lev Gudkov, head of the Levada Center, an independent polling group, told Reuters in a telephone interview.
Others agree adding that the upcoming panic won't really be about the currency fall or the oil prices but "rumours about the return of our country to the "98-year" regime," Alena Afanasyeva, a senior analyst at Forex Club in Moscow told the agency referring to the 1998 crisis.
Russian President Vladimir Putin blamed Western sanctions over the Ukraine crisis and speculators for the slide in the currency. A spokesperson for the president also added that "emotions and a speculative mood" were brewing up the market turbulence.
The US Secretary of State said that the sanctions could be lifted if Putin took necessary steps to ease tensions in Ukraine and committed to the ceasefire accords to end the conflict.
"These sanctions could be lifted in a matter of weeks or days, depending on the choices that President Putin takes," Kerry told reporters, according to Reuters.