Daria Radionova, the Russian millionaire who grabbed attention last month after blinging out her Mercedes Benz with one million Swarovski crystals, has been the focus of the media again, since she decided to sell her crystal-encrusted "baby" on eBay.
The 21-year-old philanthropist was so upset after hearing about the fire tragedy that killed over 60 dogs in Manchester Dogs' Home, that she has decided to sell the car and raise money for the centre.
"I saw the story about the Manchester Dogs Home and it was a very sad story. I got want to help. I love cats and dogs. They are amazing," Radionova revealed to itv.
The charity is described as a place that takes care of stray and unwanted dogs in the eBay auction page for the diamond-encrusted Mercedes. Manchester Dogs Home stands "to encourage, facilitate and promote the benefits of responsible dog ownership. To provide for the adoption by the public of stray and unwanted dogs. To provide education and training in dog ownership, handling and behaviour.To campaign or make representations in relation to dog welfare. To provide neutering and other veterinary treatment for dogs."
Although the Russian millionaire has not had the Mercedes encrusted with one million Swarovski crystals for very long, and only drove it for ten days before she decided to put it on eBay auction, she is positive about selling it to support charities- the Manchester Dogs Home and also a charity in Moldova that helps dogs.
The crystal-encrusted Mercedes, with 'BAII BYY' as its license plate, had caught the attention of many, including Hollywood celebrity Ashton Kutcher, who had commented about his desire in owning a similar car.
Manchester Evening News reported that Radionova spent around £20,000 to have the Swarovski crystals individually glued to her £50,000- silver Mercedes Benz, so as to create something 'unique and special'. "It gets lots of attention from people walking by and in cars. Sometimes I think they might crash," says Radionova.
The current bid for the Mercedes Benz CLS 350 is £154,100.00 and the auction ends on 16 October. The item is described as in "Perfect condition. Handcraft, Encrusted with 1 Million crystals."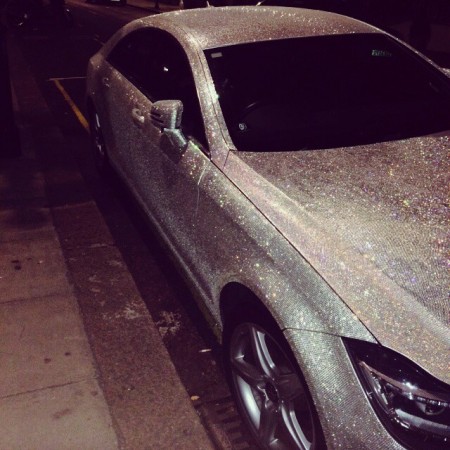 The apparent success of the auction is proving to be bittersweet for the business and management student, who lives in London. Radionova commented on Facebook: 'My baby will definitely be taken'..along with a crying smiley, four hearts and a broken heart.
The tragedy at the animal shelter had hit many dog-lovers hard, with many of them making huge donations to reinstate the Manchester Dogs Home. It was even reported by Mirror that Liverpool striker Mario Balotelli, who volunteered at the home during his time at Manchester City, had made an anonymous five-figure donation to the charity.