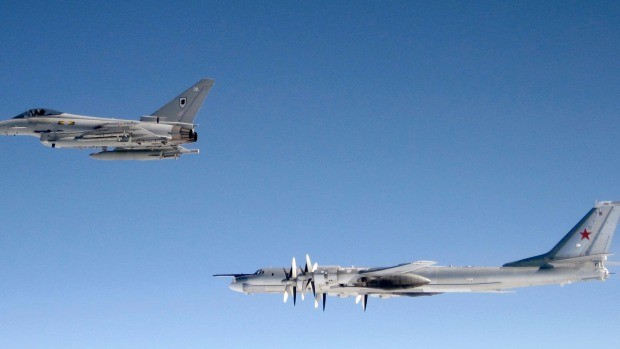 The Royal Air Force (RAF) on Wednesday escorted two Russian military aircraft out of the Cornwall coast after they entered the English airspace.
The airspace violation by Russian bombers comes close on the heels of the warning issued by Defence Secretary Michael Fallon who said that the UK must be ready for Russian aggression in "whatever form it takes," Express.Co.UK reported.
This is the second time in last 20 days that Russian fighters jets have entered British airspace. Back in January, two Russian fighter jets capable of carrying nuclear missiles were intercepted by the RAF over the English Channel.
A MOD spokesman said: "RAF Quick Reaction Alert Typhoon fighter aircraft were launched yesterday after Russian aircraft were identified flying close to the UK airspace.
"The Russian planes were escorted by the RAF until they were out of the UK area of interest."
Earlier last month, after two Russian fighter jets flew close to the English Channel, a senior research fellow at the Royal United Services Institute and a defence think tank, Elizabeth Quintana, had noted that the Russian bombers did deviate from their standard route.
"Normally Russian Bears come past Norway and down the North Sea. It could have been used to probe the RAF speed of reaction south," Daily Mail had quoted Quintana as saying.
"Flying any military aircraft in or close to the sovereign airspace of another country signals displeasure or at worst aggression."
Tensions between Russia and the NATO have been on an all-time high over the escalating situation in Ukraine.