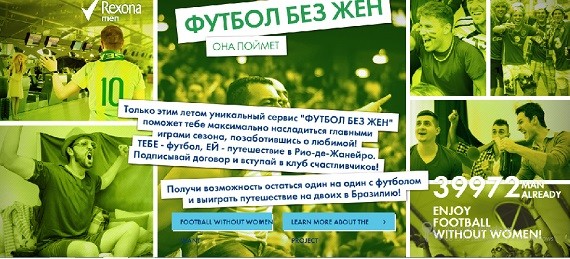 For avid non-bachelor football fans, being able to watch a match without getting hassled by their wives is always an unlikely situation.
But a Russian football enthusiast has come up with just the solution. He has created a website that allows a husband to watch football, while the wife is taken on a spa, entertained and then 'safely' brought back home.
As unbelievable as it may sound, thousands in Russia have come forward to help Mikhail Sindeyev to set up Footballwithoutwives.rf(футболбезжен.рф). The website now has around 40,000 subscribers.
Mikhail, the man behind the website, came up with the idea after he bought his wife a spa trip and later an online seminar, so that he can watch a few matches of the 2014 FIFA World Cup peacefully, The Moscow Times reported.
Mikhail then understood that several thousands of men faced similar problems throughout the year. While the wife might allow the husband to watch a particular match or a season, the problem arises when the husband wants to watch - for instance - the Russian league, Spanish league and then the World Cup in the same year.
So the website gives die-hard football fans a way to work around the problem, so that they can watch the matches undisturbed.
The wives, with the help of the guardian assigned by the website, can watch a television series during the matches, learn a new language and even have a small holiday. The website also has set up a special lucky draw for a couple, who will have the chance to win a trip to Brazil and watch a 2014 World Cup match.
As per the contract clause of the website, a wife cannot register on her own. Instead, only the husband is allowed to register.
And to personalize the gift, the husband can provide a set of pet names such as baby doll, sweetie, sunshine or cutie, which will be used by the guardian to address the man's wife, while presenting her with the gifts chosen by the husband.
To set up the website, Mikhail had turned to crowd-funding and received support from thousands of football fanatics, who wanted to get rid of their wives during the sporting extravaganza in Brazil.
The report claimed that the crowd-funding target was 1.5 million rubles ($44,517). However, now British-Dutch company Unilever-Rexona has decided to chip in and has promised bear the cost of the entire project on its own.
The proposal has received mixed reactions. A fan told MT that it was an excellent idea for the family as the man can watch football and wife is entertained elsewhere. However, a female football fan labelled doing such things was a 'disgrace'.