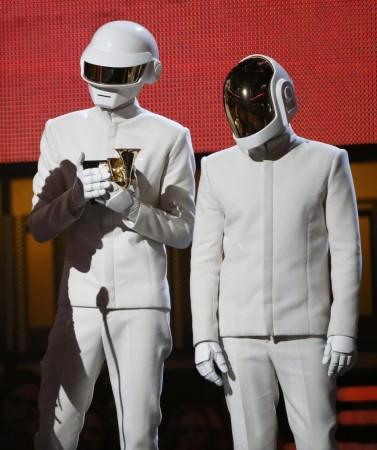 The Russian Interior Ministry officials surprised many at the opening ceremony of the Winter Olympics in Sochi, Russia, on Friday when they covered Daft Punk's "Get Lucky."
The members of the choir, formally attired in military-style uniforms, gyrated their hips awkwardly as they rendered one of the most popular songs of 2013.
According to some reports, their latest act is weirder than their original performance of the song, which went viral last year. Two of the highlights of the performance include the puzzled expression on the face of an older policeman during the rendition of the song, and the officers' "old, goofy man dancing at a wedding reception" dance moves, Rolling Stone noted.
The all-male choir had also performed James Bond theme Skyfall earlier.
While many expected the Winter Olympics opening ceremony to be a celebration of Russian heritage and culture, the western influence was dominant in the event, Associated Press reported.
Meanwhile, social networking sites are abuzz with appreciatory comments for the "Get Lucky" performance.
Check out some of the tweets below:
Both versions of the Russian Police Choir's "Get Lucky" cover are fantastic. http://t.co/OPUtHVCKhq

— southpaw (@nycsouthpaw) February 8, 2014
Forget #RingGulagGate it's the Russian police singing 'Get Lucky' that made #Sochi for me. http://t.co/mdeObGrUtB via @mjkiebus — RV (@TVRav) February 8, 2014
Possibly one of the best covers of all time. Russian police choir does "Get Lucky" for #OpeningCeremony http://t.co/Zkux4pa2g8

— sarika dani (@sarikadani) February 8, 2014
In the U.S., NBC has come under severe criticism for not telecasting the "Get Lucky" cover. Viewers in the U.S. also missed the giant bear mascot, part of the IOC president's speech and the journey of the Olympic torch, as these events did not make NBC's cut.