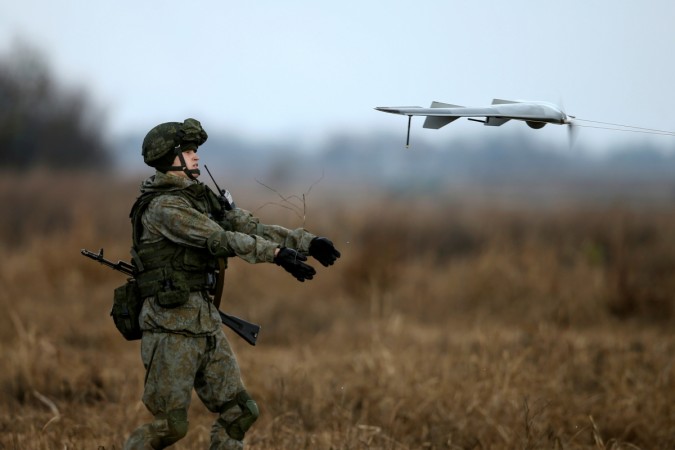 Russia's advancement in drones and robotics technology is quite apparent over the last few years, especially after it announced a whopping investment of about $9 billion on the unmanned aerial vehicle (UAV) by 2020 with an aim to boost its defense system. It is now set to showcase the latest development in this field.
Russia's Defense Ministry has stated that it would show off its bird-shaped UAV at the Zhukovsky-Gagarin Air Force Academy on Innovations Day to be held on Tuesday, February 6, according to Tass website. The drone has been developed for the military purpose and designed for reconnaissance missions.
The latest development in unmanned aviation, robotics and IT technology, armaments, and radio-electronic technologies will be showcased at the event.
"Among the exhibits, the guests to the event will see a radio reconnaissance station mounted on a rotary-wing drone, a robotic mines detection complex, the latest infrared system of small-size aircraft automated landing," Tass reported quoting the Russian Defense Ministry.
"Scientific departments, institutes and centers, the research company and the cadets' engineering school will present about 50 various projects. The event will be held on February 6 under the direction of Air Force Academy Chief Colonel-General Gennady Zibrov," the ministry added.
Vladimir Mikheyev, first deputy CEO of Russia's Concern Radio-Electronic Technologies' (KRET), had earlier told the same publication that the state-owned firm was working on artificial brain components that would enable drones to make its own decision in the future.
Confirming its focus on unmanned aviation, Federal Security Service (FSB) chief Alexander Bortnikov had told Rossiyskaya Gazeta (via Tass) in 2017 that Russia was "developing new-generation drones and robotics control systems for its special services."
"Efforts continue to put into operation the latest armament systems and technical means developed by departmental specialists and unrivaled in the world. Work is underway to develop promising drones and systems for control of ground-and air-based robotic complexes, and also armored transport and fighting vehicles with the enhanced cross-country capacity, speed and protection," the FSB chief said.