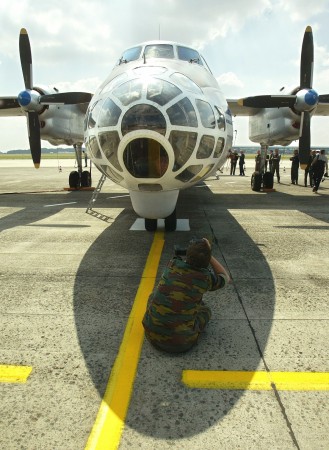 Russia will reportedly seek the Open Skies Consultative Commission's (OSCC) permission on Monday to install high-powered digital cameras on surveillance planes that are flown over the United States under a treaty. The move comes at a time when the U.S. has warned of a violation of the treaty by Russia.
Under the Treaty on Open Skies, 34 nations are allowed to fly unarmed aerial surveillance flights over the territory of the partner nations to obtain information on military forces and activities in a transparent manner, Associated Press reported. All 34 nations have the obligations to openly share details, in the form of imagery, collected from the surveillance with the partner nations.
Russia will meet the OSCC, the Vienna-based organisation responsible for monitoring the implementation of the treaty, to seek its permission to fly its surveillance flights with "digital electro-optical sensor" over the U.S., AP quoted a senior congressional members as saying.
The U.S. military and senior intelligence officials have expressed their concerns, saying that Russia is using the treaty to gather intelligence on the U.S.
"The treaty has become a critical component of Russia's intelligence collection capability directed at the United States," U.S. Strategic Command's Commander Admiral Cecil Haney had informed Congressman Mike Rogers, House Subcommittee on Strategic Forces' chairman, in writing.
"In addition to overflying military installations, Russian Open Skies flights can overfly and collect on Department of Defense and national security or national critical infrastructure... The vulnerability exposed by exploitation of this data and costs of mitigation are increasingly difficult to characterise," he added.
Some others raised issues of defiance of the treaty by Russia, which has restricted aerial surveillance of Moscow, Chechnya and areas surrounding Abkhazia and South Ossetia, former assistant secretary of state for the bureau of arms control Steve Rademaker said. Russia is "selectively implementing" the treaty "in a way that suits its interests," he added.