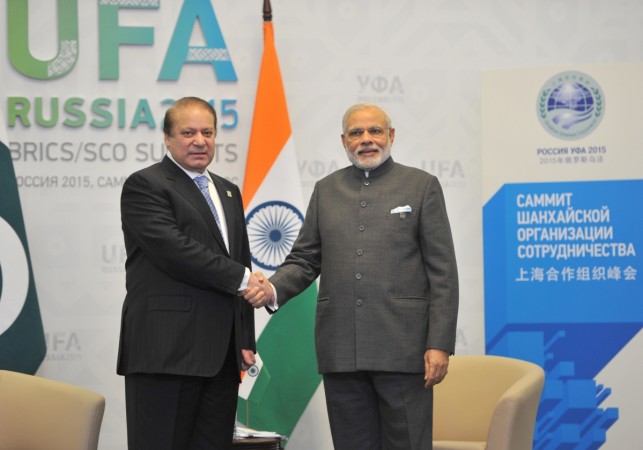 Prime Minister Narendra Modi met his Pakistani counterpart in the Russian city of Ufa on Friday on the sidelines of the Shanghai Cooperation Organisation (SCO) summit, and they reportedly discussed terrorism among other topics on the agenda during the bilateral talks.
According to a Times Now report, Modi also discussed the release of Zakiur Rehman Lakhvi, alleged mastermind of the 26/11 Mumbai terror attacks, from a Pakistani jail during over an hour-long talks.
Modi has also reportedly urged Sharif to act against Lakhvi so as to maintain a peaceful and friendly relation between the neighbouring nations.
Take action against Lakhvi to ensure peaceful, even friendly relations between the 2 countries: Modi to Sharif @timesofindia

— Sachin Parashar (@toi_sachinP) July 10, 2015
The Indian Prime Minister also raised the issue of constant ceasefire violation along the LoC by the Pakistani Army.
On Thursday, one BSF personnel was killed when Pakistani troops opened fire on the Indian side of of the LoC in Nowgam sector of North Kashmir's Kupwara district.
They further talked about ways to boost trade between the two nations.
UPDATES:
12:02 pm: Also after years of unclear delays, first time Pakistan has promised to expedite Mumbai attack trials, ANI quotes BJP National Spokesperson M J Akbar as saying on Modi-Sharif meeting in Russia.
12 pm:
First time Pakistan has accepted to combat terrorism in 'all its forms'-M J Akbar,BJP on PM Modi-PM Sharif meet pic.twitter.com/5jHnFNDLGN

— ANI (@ANI_news) July 10, 2015
11:58 am: Sharif invited PM Modi to visit Pakistan for SAARC summit in 2016. The Indian PM accepted invitation.
11: 57 am: Both the leaders agreed on releasing fishermen jailed in both nations, along with their boats, within 15 days.
11:56 am: A mechanism for facilitating religious tourism was also discussed upon, ANI quotes Jaishankar as saying.
11: 56 am: Both the sides agreed to discuss and expedite the Mumbai attack trials, said Jaishankar, according to ANI.
11:54 am: Early meets of DG BSF & DG Pak Rangers followed by a meeting of DGMOs were decided upon, including additional information like providing voice samples, ANI quotes Indian Foreign Secy S Jaishankar as saying.
11:54 am: Both the leaders agreed on a meeting in Delhi between two NSAs to discuss all issues connected to terrorism, added S Jaishankar.
11:53 am:

Both leaders condemned terrorism in all its forms & agreed to cooperate to eliminate this menace: Aizaz Ahmad Chaudhry,Pak Foreign Secy

— TIMES NOW (@TimesNow) July 10, 2015
11:52 am: Foreign Secretary of Pakistan Aizaz Ahmad Chaudhry and Ministry of External Affairs (MEA) Foreign Secretary S Jaishankar held joint press meet for briefing on Modi-Sharif meeting begins.
11:21 am: MEA will hold a press conference shortly to give details on the Modi-Sharif bilateral talks.
Cross-border terrorism, Lakhvi issue, China-Pak tango & economic corridor discussed in hour-long meet between PM Modi & Pak PM Nawaz Sharif

— TIMES NOW (@TimesNow) July 10, 2015
11 am:

It is also essential to meet on a diplomatic format where all issues are hammered out: MS Aiyar (Cong) on PM Modi-PM Sharif meet

— ANI (@ANI_news) July 10, 2015
10:56 am:
Its good that meet (Indo-Pak) is happening, but one meeting isnt enough for all problems we face: MS Aiyar (Cong) pic.twitter.com/ucEeZ06J9H

— ANI (@ANI_news) July 10, 2015
Neighbourhood engagement. PM @narendramodi meets PM Nawaz Sharif on sidelines of SCO Summit pic.twitter.com/csMUUdECLI

— Vikas Swarup (@MEAIndia) July 10, 2015
This is the second bilateral meeting between Modi and Sharif, who held talks during the Indian PM's swearing-in ceremony in May, last year.
After the meeting, both the leaders will attend the SCO summit. India is expected to become a permanent member of the six-nation group of China, Russia, Kazakhstan, Kyrgyzstan, Uzbekistan and Tajikistan. India, at present, has the status of an observer in the SCO.