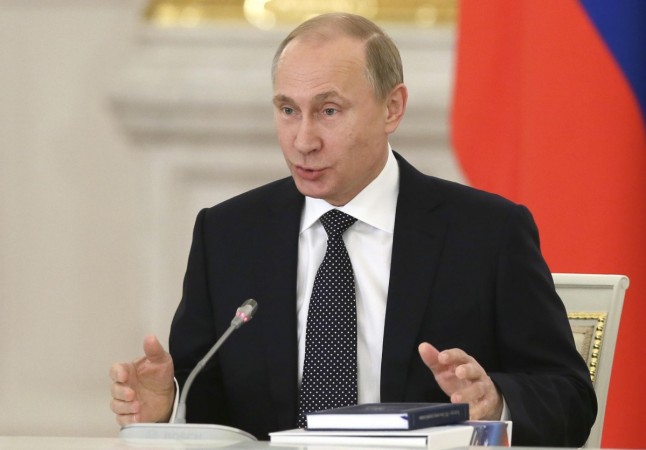 Russian President Vladimir Putin appears to be struggling to save his popularity and the country's sliding economy, as he ordered his government to rein in rising vodka prices as well as cancelled vacations for members of the government.
In a meeting with government officials, Putin said that higher vodka prices would encourage the production of bootleg spirits, which are thought to have more detrimental effects to health than legally produced alcohol.
This comes as Russia is facing its worst economic crisis since 1998, an instance that might take a toll on President Putin's popularity in Kremlin, which is primarily based on his reputation for providing stable government and prosperity in the country.
"The overshoot of vodka prices leads only to increasing consumption of bootleg (spirits)," Daily Mail quoted Putin as saying. "I think the relevant structures (government bodies) should think of that."
During a meeting he convened on 25 December, Putin also explained that in view of the economic condition the country is presently facing, officials cannot afford to go for holidays.
"The Government and its various structures cannot afford such extensive holidays, at least not this year," Putin said while addressing his ministers in a speech broadcast on state television, noted CNN. "You know what I am talking about," he added referring to Russia's battered economy.
"We have been making efforts to change the structure of our economy, to refine it and make it more innovative ... quite a lot has been done in this direction. However, recent events show that this is not enough."
Russia's economy is expected to slide into recession in 2015, an incident mostly blamed on Western sanction over the Ukraine crisis as well as falling oil prices.
Putin has been blaming the West for Russia's increasing woes even suggesting that a conspiracy is brewing between the US and Saudi Arabia to bring down oil prices. However, Putin on Thursday conceded that his government was also to blame.
"The difficulties we have come across are not only of an external type," he said adding: "They are not only due to some sanctions or limitations caused by the global market situation -- they are also the result of our own shortcomings that have piled up over the years."