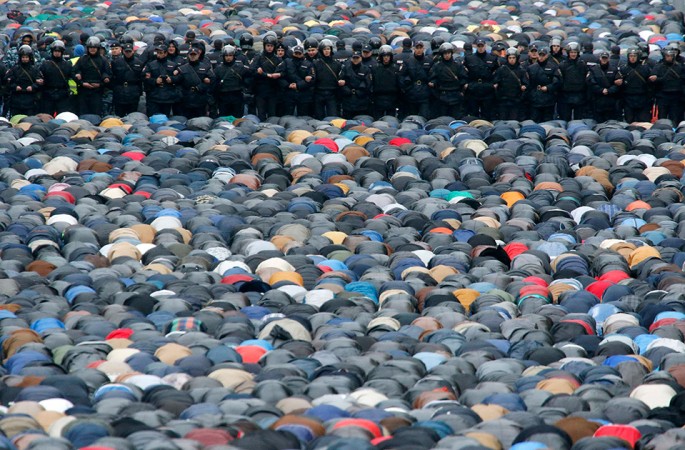 Russia has reportedly introduced a special training to help local Muslim clerics in the country counter the Islamic State (Isis) ideology.
According to Sputnik News, the special training programme launched by the Moscow Islamic Institute was attended by over 300 Imams from across Russia "to counter the influence" of Isis and al-Qaeda recruiters.
"The emphasis of the training sessions is make the Muslims clerics understand that even during the times of Prophet Muhammad, there were violent extremist groups similar to Isis and Al Qaeda that were responsible for killing Muslims and non-Muslims alike," Rais Izmailov, deputy head of Moscow Islamic Institute, told Izvestia.
The institute has been holding special classes since January this year to train the local imams. To drive home the point that Isis is a devil, it uses the Russian equivalent of Isil (Islamic State in Iraq and the Levant) to refer to the Islamic State as Iblis State, which in Arabic means "Satanic State".
From the Islamic theological point of view, the actions of Isis are nothing short of the Iblis, deputy head of the Council of Russian Muftis, Rushan Abbyasov, told Izvestia.
It may be recalled that early this year two top Russian Muslim groups – the Spiritual Directorate of Muslims of Russia and the Chechen Council for Fatwas – had denounced the Isis as an enemy of Islam and called for criminal trial against its fighters, the Russia Today reported.
At least 2,000 Muslims from Russia have joined the Islamic State in Syria and Iraq, the chief of Anti-Terrorism Centre of Commonwealth of Independent States (ATC-CIS), Andrey Novikov, told Interfax news agency.
According to the Middle East Monitor, the number could even be more than 5,000.