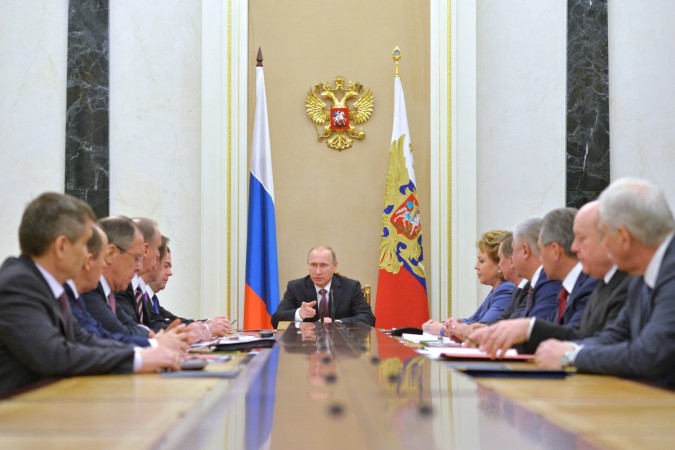 Russia's new military doctrine signed by President Vladimir Putin has identified NATO as its biggest threat and also raised the possibility of Moscow using precision conventional weapons as well as nuclear weapons to deter foreign aggression.
The new doctrine signed on Friday came amid tensions over Ukraine. It signified Kremlin's willingness to take a stronger position in response to what it sees as the Western attempt to isolate and weaken Russia -- politically and economically.
The narrowing down of NATO as Russian military's No. 1 threat comes as Moscow prepares countermeasures in response to the increased NATO presence in the Black Sea, Russia's envoy to the alliance said after another US warship reportedly arrived in the area.
"Unfortunately, Black Sea is becoming a place where non-regional powers have a permanent presence. What they are doing there is unclear," Aleksandr Grushko said according to RT.
"Of course, we will take the necessary countermeasures," he said further criticising NATO's stationing of high alert forces near Russia's borders by holding military drills with Poland and the Baltic states.
According to the new doctrine, Russia could employ nuclear weapons in retaliation to the use of nuclear or other weapons of mass destruction against the country or its allies. It could also use the weapons in case of aggression, involving conventional weapons that "threatens the very existence" of Russian state.
The use of precision weapons "as part of strategic deterrent measures", was mentioned for the first time by the new doctrine, the Associated Press reported. Examples of such weapons include ground-to-ground missiles, air-and submarine-launched cruise missiles, guided bombs and artillery shells among others.
The new doctrine, however, doesn't spell out when or where exactly those weapons will be used.
Russia's relationship with the West has plummeted to its lowest ever since the Cold War ended.