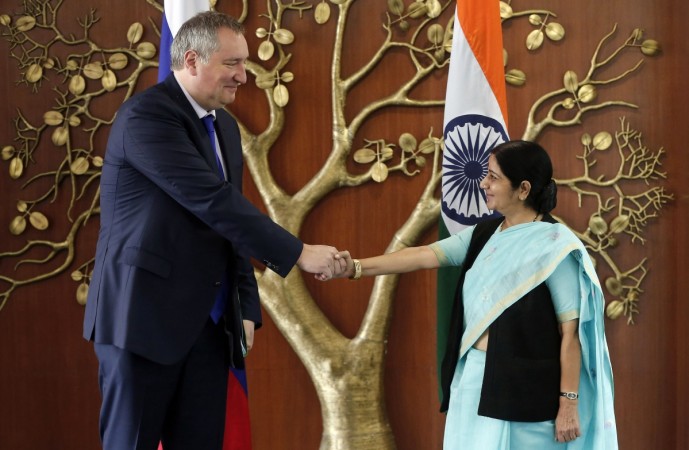 Russia continued her support to boost India's energy security and infrastructure projects by offering to export hydro-carbon to India in a meeting on Wednesday.
Russian Deputy Prime Minister Dmitry O Rogozin arrived in New Delhi on Wednesday for a two-- day trip to India and met External Affairs Minister Sushma Swaraj. He made a proposal that would help India meet her energy needs .
Another meeting has been planned between the countries by the end of this month, where preparation to lay pipelines to India will be discussed, according to Economic Times.
The Koondankulam Nuclear Power Plant deal of building the other two reactor units—Unit 3 and Unit 4— in India , was a major concern during the talk. Russia agreed to the Civil Liability Nuclear Damage Act 2010 and signed a General Framework Agreement for the other two reactor units.
India has suggested Haripur, West Bengal as the second site for building the reactors, even after constant protests from the villagers of Haripur against the nuclear power plant. After the Fukushima nuclear disaster in 2011, people from all over India have protested against it, according to reports.
Reactor Units 1 and 2 were built in Tamil Nadu in 2002 . Unit 1 has a capacity of 1000 MWe.
Besides, offering economic and nuclear energy, defence and space cooperation and trade fertilisers, coal and diamonds, the countries also discussed regional and international issues concerning them. The deal to sell Mi-25s to Pakistan and the Iraq crisis were discussed.
A deal in 2009, where Russia sold Mi-35s to Pakistan, to which India objected, was raised during the meeting with Swaraj, Ministry of External Affairs spokesperson Syed Akbaruddin told Zee News.
Arrangements for the annual BRICS 6th Summit to be held in Brazil, next month is also said to have been discussed, according to The Hindu.
Rogozin will call upon Prime Minister Narendra Modi on Thursday. Meetings between him and Defence Minister Arun Jaitley and National Security Adviser Ajit Doval have also been scheduled.
Considering both countries' interests in Iraq and concerns over terrorism, the ongoing Iraq crisis and the takeover of its cities by the Islamic State of Iraq and ISIS will be the likely topics of discussion.
Defence matters, nuclear energy and space cooperation are expected to be dealt with in Rogozin's meeting with Jaitley and Doval. In addition to being Deputy Prime Minister Rogozin is the co-chairman of the India-Russia Inter-Governmental Commission on Trade, Economic, Scientific, Technology and Cultural Cooperation.