As the North Atlantic Treaty Organisation becomes well entrenched in Eastern Europe, Russia has decided to boost its air capabilities, with almost 200 new airplanes and helicopters to be inducted into its air force and naval branches.
Most countries do not have a fleet of 200 aircraft in their arsenal, to give a reference point.
The Russians have also reintroduced long-range military air patrol to test the strength and weaknesses of air defences of NATO-aligned nations, an act reminiscent of the Cold War-era distrust between the West and the Russians.
The Russian dominance in aircraft and space technology is well catalogued. The latest induction would see 126 new aircraft and 88 helicopters.
According to a Sputnik news report from December 2014, the aircraft delivery would include Sukhoi Su-34 (NATO reporting name: Fullback) bombers, multipurpose Su-30SM (NATO reporting name: Flanker-C) and Su-35S (NATO reporting name: Flanker-E) fighter jets, Yakovlev Yak-130 (NATO reporting name: Mitten) advanced trainers/light fighters and transport Ilyushin Il-76MD-90 (NATO reporting name: Candid-B) planes. The Russian Air Force is also expected to receive cutting-edge radar stations, such as Nebo-M and Sopka.
The helicopter deliveries will include Kamov Ka-52 (NATO reporting name: Hokum-B) and Mil Mi-28N (NATO reporting name: Havoc) attack helicopters, Mi-8AMTSh (NATO reporting name: Hip) assault-transport helicopters, Mi-35 (NATO reporting name: Hind-E) combat helicopters and Ka-226 (NATO reporting name: Hoodlum) utility choppers.
"The serviceability status (will increase) up to 67%," defense minister Sergei Shoigu said during a conference call. This would see two out of three aircraft at operational readiness at any given time. However, the US Air Force rate stands at 78% in 2013.
Su-35 Capabilities
The entry of the Su-35s Flanker multirole fighter aircraft is expected to advance Russian air superiority significantly. The twin-engine, single-seat fighter is currently undergoing tests and is expected to be inducted in 2015.
The Su-35 Flanker carries a $85 million export price, a comparatively lower price for a 4++ generation fighter. Currently, US is the only nation to field an operational fifth generation aircraft in the F-22 Raptor.
The fifth-generation aircraft carry better stealth capabilities, with advanced radar evading technology allowing them to penetrate deep into enemy air defence and launch strikes.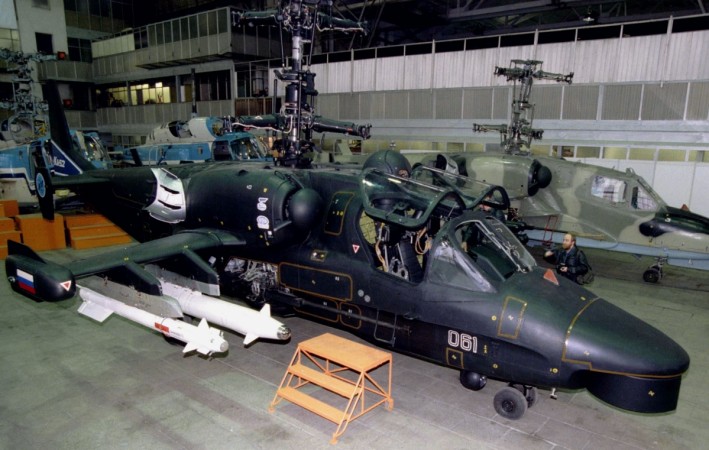 The US Air Force, Marines and the Navy are expected to induct the Lockhead Martin F-35, the most expensive weapons development programme ever, by December 2015. The F-35 is a fifth-generation fighter.
Estimates suggest a single Air Force F-35A to cost $148 million. A Marine Corps specification fitted F-35B will cost $251 million. A lone Navy F-35C will cost $337 million. Average the three models together, and a "generic" F-35 costs $178 million.
The Russians are developing the Sukhoi T-50 as their fifth generational multirole aircraft. While, the Chinese are developing the Chengdu J-20 and Shenyang J-31.
Defence Budgets
In 2015, the Russian defence budget is expected to total $84 billion, which would also see soldier strength increase to 3,50,000 from 2,95,000 a year ago, read Huffington Post.
For 2015, the US President Barack Obama is seeking a base defence budget of $495.6 billion.
Russia is also reopening up its Soviet era Arctic air bases and has formed a separate Arctic command to oversee its troops stationed there. The move is strategically important given the melting of the Arctic ice cap not only opens up new trade routes between Asia and Europe, but also gives access to oil and gas reserves estimated to be available in the region, read Business Insider.
The Russians have also decided to replace the Soviet era missile weaponry with more advanced missiles, while not only capable of delivering a nuclear payload, but can also penetrate the most advanced of missile defence shields.
A single Topol M ICBM missile carries four MIRVed (Multiple Independently Targetable Reentry Vehicle), nuclear warheads with 100-300 kiloton warheads, with a range exceeding 10,000 kilometer.