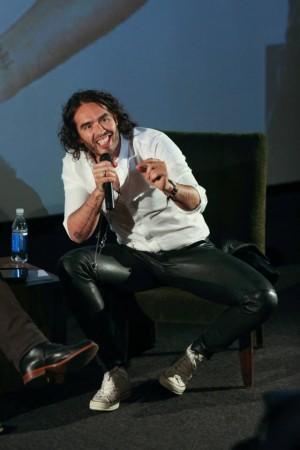 English comedian Russell Brand will be the headlining act for Comedy Central India's "Chuckle Festival" taking place in three major cities in June 2015. Brand has a very publicised bond with India, especially after his wedding to now-ex-wife Katy Perry near the Ranthambhore tiger sanctuary in Rajasthan in 2010.
The event will be held in the capital city of New Delhi on Friday, 26 June, then in Bangalore on Saturday, 27 June, and finally in Mumbai on Sunday, 28 June. This is the second season of the Chuckle Festival and Brand will be present in all three cities.
Jaideep Singh, senior vice president of Integrated Network Solution, said: "We are delighted to bring comedy back with a bang and this time we have a heavyweight from the world of comedy to lead the show - Russell Brand. We are positive that the audiences will appreciate our efforts in making live comedy shows grander than ever before."
Recently, Jerry Seinfeld was also prepping to perform in India at the National Sports Club in Mumbai, but the shows were cancelled due to "parking troubles". Hopefully, similar issues will not plague Brand's shows.
To book tickets, priced at ₹3,000 per head onwards, will be available at meraevents.com.