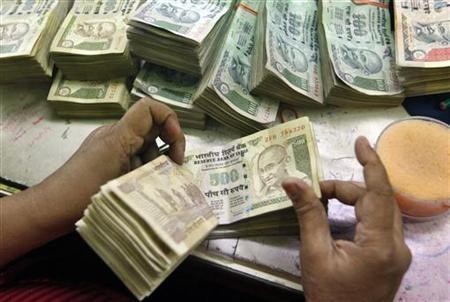 The Indian rupee slipped in the early trade on Wednesday as it opened 4 paise lower at 59.42 per dollar as against Tuesday's closing value of 59.38.
At 11:00 am on Wednesday, Sensex declined to 24836.97 points losing 21.62 points. Nifty also fell to 7413.30 points losing 2.55 points during early trade.
NSE top gainers on Wednesday morning are Hindalco, NMDC, PNB, Tata Steel and Bank of Baroda.
BSE top gainers are Hindalco, Tata Steel, bajaj Auto, BHEL and Hero Motorcorp.
"Rupee might trade between a narrow range of 59.3-59.5/dollar and the yield on the 10-year bonds might range between 8.5-8.55 percent," expects NS Venkatesh of IDBI Bank, as quoted by Moneycontrol.com.
Meanwhile, Reserve Bank of India (RBI), which has kept interest rates on hold at 8 percent, hinted that it would not raise rates as long as inflationary pressures continued to ease. RBI governor Raghuram Rajan has placed inflation as his primary agenda, for which he will need the support of India's new cabinet.
Investors are, however, confident that the Modi government will reduce the fiscal deficit by undertaking the supply-side factors that increase the inflation in the country, thus lessening the pressure on the poor and bringing back investors' confidence.
The 16th Lok Sabha will meet for the first time on Wednesday for the swearing-in of new MPs, election of the new Speaker and attend the President's inaugural address. Congress leader Kamal Nath will be sworn in as the speaker for the time being. The session is expected to start by paying homage to the late Union rural development minister Gopinath Munde.
(With inputs from Reuters)