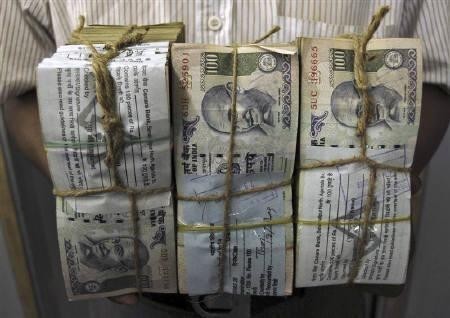 The Rupee declined by 9 paise at early trade on Thursday at 59.36 a dollar against previous day's closing value of 59.27 per dollar at Interbank Foreign Exchange market.
"The rupee is trading in a narrow range as FII flows are neutralised by oil and gold related demand for dollars and sterilisation by RBI to prevent appreciation of rupee," Mohan Shenoi of Kotak Mahindra Bank told Moneycontrol.
''USD-INR is expected to trade today in a range of 59.15-59.35 a dollar," he added.
Dealers told DNA that the US dollar consolidated against Rupee and other Asian currencies. Hence, early trade inflows led rupee's fall against USD.
At 11 am on Thursday, the INR inclined at 59.3188 with 0.0426 points and 0.07 percent change. While six currencies depreciated, rest seven witnessed inclination among 13 Asia-Pacific currencies.
Meanwhile, sensex inclined by 83.9 at 25,560 points and top gainers from BSE were Cipla, Infosys, TCS, Sun Pharma and HDFC. Top NSE gainers were NSE, ONGC, Hindalco, HDFC, Tata Power and Cipla.
Moreover, one day Reverse Repo Auction rate opened lower at seven percent compared to yesterday's level of eight percent. RBI purchased and sold 18 securities for ₹45.65 billion, at repo auction yesterday.
Today, the United States Department of Labour released US Import and export Price Indexes for May 2014. According to Bureau of Labor Statistics (BLS), US import prices fell 0.4 percent in April following a 0.4 percent advance the previous month. US export prices decreased one percent in April, after rising one percent in March.