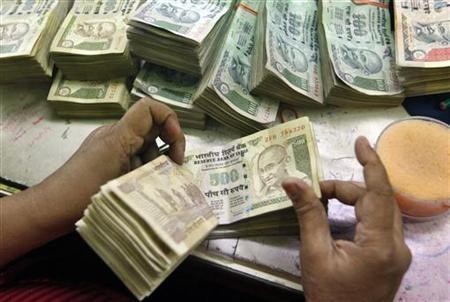 The Indian Rupee opened lower by 13 paise at 60.21 per dollar at early trade on Friday in Interbank foreign exchange market. Its previous closing value recorded 60.08 a dollar on Thursday. The rupee weakened due to demand for dollars amid rising global crude oil prices.
Brent crude hit a nine-month high of more than $115 per barrel on Thursday as US said it would send military advisers to Iraq for controlling rising violence and crisis. Ministry of Petroleum and Natural gas said in its press release that, currently there is no possibility of supply disruptions and adequate supply of petroleum products throughout the country would be maintained by Oil Marketing Companies.
"There is nothing bigger than Iraq at the moment. It's all safe haven buying," Reuters quoted Ashtosh Raina, head of forex trading from HDFC Bank.
At 11:45 am, INR weakened at 60.24 by 3 paise and 0.27 percent. Meanwhile, Yen, Hong Kong dollar, Taiwan dollar, Chinese Renminbi and Thai Baht strengthened among the list of 13 Asia-Pacific currencies. Hence, among INR, seven other currencies weakened and rest five currencies strengthened, excluding New Zealand dollar, which recorded no change.
Reserve Bank of India released Repo rate auction that was held on Friday morning. The Central Bank purchased and sold 25 securities for $1.925 billion. According to Reuters, Indian Banks cash balances with RBI rose to ₹3.43 trillion on Thursday.
The reference rate for US dollar and Euro was fixed on Thursday by RBI. It was 60.0031 and 81.7106 per dollar and Euro versus Indian rupee. The exchange rate for 1 British Pound and 100 Japanese Yen was fixed Rs. 102.0473 and Rs.58.94 respectively.
Also, foreign investors sold Indian shares worth net ₹4.21 billion ($70.52 million) on Thursday.
However, on Friday BSE index opened lower at 25,243.91 points and decreased by 0.06 points. In the meantime NSE index opened higher at 7,546.05 with increase of 5.35 points. Sensex ended on Thursday at 25,201.80 points with decline of 44.45 points and Nifty too declined at 7,540.70 points by 18 points.