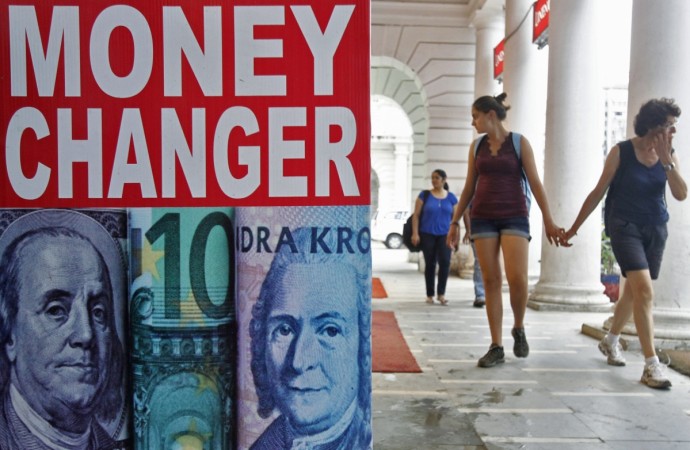 The Indian rupee, on a downhill path since last week, opened at a two-month low of 66.95 to the US dollar on Wednesday. The fall was attributed to consistent demand for the greenback from importers.
In addition to the rising demand for dollars, foreign fund outflows and rising global crude oil prices were also exerting pressure on the rupee, PTI reports, citing forex dealers in Mumbai.
The S&P BSE Sensex opened lower and extended losses to trade at 25,579 at around 12:20 p.m., a loss of almost 200 points, on global cues. The possibility of the U.S. Federal Reserve increasing interest rates in the wake of U.S. consumer prices rising at their fastest in three years last month.
"Odds of a June hike climbed to 12 percent on Tuesday, Fed Funds futures show, as central bank officials commented on prospects for borrowing costs to be raised and U.S. data showed quickening inflation and a pickup in new-home construction," BP Equities Pvt Limited said in a note on Wednesday.
The rise in oil prices had a negative effect on bond prices on Wednesday in India, IFA Global said in a note.
The rupee has fallen for the fifth straight day on Wednesday, having closed at 66.88 to the US dollar on Tuesday. Foreign institutional investors (FIIs) were net sellers of Indian equities worth Rs. 225 crore on Tuesday while domestic institutional investors were net buyers, according to provisional data published by the National Stock Exchange (NSE).
The rupee had hit a record low of 68.85 to the US dollar on August 28, 2013, and posted its biggets fall in 18 years.
The BSE Bankex was trading in the red while the Nifty PSU Bank index was up by almost 1 percent.
Shares of Oriental Bank of Commerce, Syndicate Bank, Punjab National Bank, State Bank of India and Canara Bank were up in the range of 1-3 percent.
Top Sensex losers at around 12:30 p.m. included Maruti Suzuki, Bajaj Auto, BHEL and Hero Motocorp.