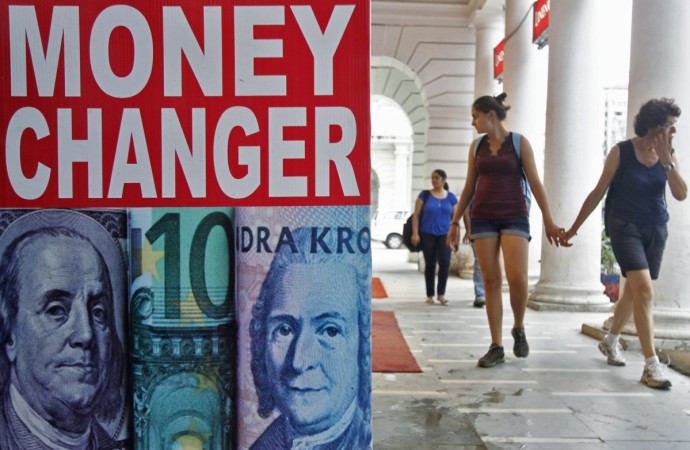 The Indian rupee closed at 66.89 to the US dollar on Monday, a loss of 19 paise amid sustained selling by foreign institutional investors (FIIs) and falling stock markets. The fall comes even as the $25 billion Foreign Currency Non-Repatriable (FCNR) deposit redemption kicks-in, triggering large outflows. Further, FIIs ended up as net sellers of Indian equities worth Rs 456 crore on Monday.
The stock markets closed lower despite select index stocks ended with gains. The BSE Sensex shed 143 points to end at 27,529, while the NSE Nifty closed 63 points lower at 8,520.
The biggest Sensex gainer was ICICI Bank, which closed 6.91 per cent higher at Rs 258.55.
Top Sensex losers included Mahindra, Hero Motocorp and Asian Paints while Nifty losers included Zee Entertainment Enterprises, Bosch and Idea Cellular.
There were seven advances and 43 declines on the NSE Nifty.
The rupee's volatile movement would continue for some time due to both domestic and global headwinds.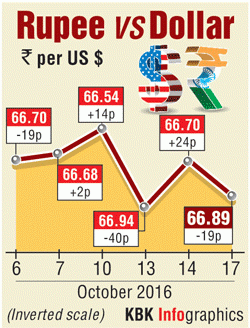 "As redemptions of FCNR occupy the centre-stage of demand-supply dynamics domestically, investors' risk aversion globally is likely to keep the environment for rupee challenging," rating agency India Ratings and Research said in a note on Monday.
It may be recalled that the country's foreign exchange reserves fell $4.3 billion during the week ended October 7. Though the Reserve Bank of India (RBI) did not explain the sharp decline, analysts attributed it to the redemption programme entailing outgo of about $25 billion.
The worries of any major impact on the domestic currency are unfounded, according to Standard Chartered Bank analyst.
"It is a complicated story on the FCNR B including rupee liquidity and dollar liquidity, but by itself it should not cause any too much of a concern on the market," The Co-Head of Wholesale Banking- South Asia, Standard Chartered Bank, told CNBC-TV18.