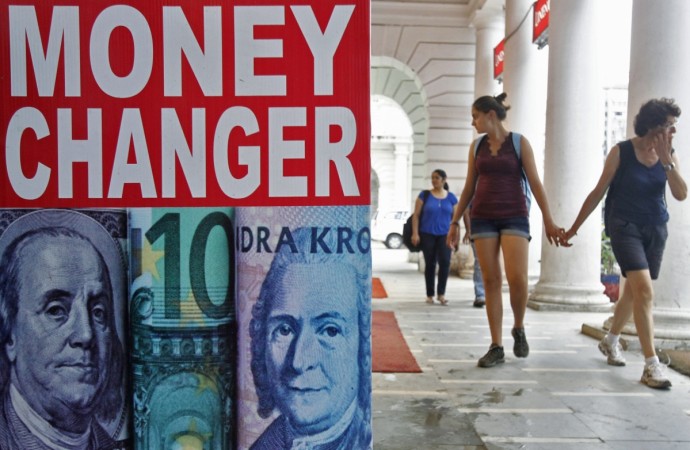 The Indian rupee gained 33 paise on Wednesday, the second straight day of appreciation, to close at 66.23 to the US dollar on selling of the US dollar by bankers and exporters. However, foreign institutional investors (FIIs) were net sellers of Indian equities on Wednesday.
"As expected the rupee opened on a positive note well above close of previous trading session, thus by depreciating USD. Since opening trades we saw the rupee appreciating for the whole day. Thus the rupee appreciated 33 paise and closed at 66.22/USD for the day. Trading range for the spot USD/INR pair is expected to be within 66 to 66.80/USD," Pramit Brahmbhatt of Veracity Financial Services said, as reported by PTI.
The rupee has gained 42 paise in two trading sessions after a loss of 22 paise last Wednesday. Thursday and Friday were public holidays in India.
FIIs/foreign portfolio investors (FPIs) were net sellers of Indian equities worth Rs. 80.1 crore on Wednesday, according to provisional data released by the National Stock Exchange (NSE). On Monday, they were net buyers of stocks worth Rs 977.98 crore.
The S&P BSE Sensex closed with a small gain of 28 points at 25,844 on Wednesday.
Some of the stocks that rallied sharply on the BSE included Amtek Auto, Future Retail, DCB Bank, Vedanta, Crisil, Hindustan Copper and Novartis India. Stocks that closed in the red included India Cements, ICRA and LIC Housing Finance.
Wipro declared its fourth quarter and full-year financial results on Wednesday, apart from announcing buy back of shares.
Prominent companies to declare their fourth quarter results in the coming days include IndusInd Bank (April 21) HDFC Bank and Reliance Industries (April 22), and ABB (April 25).