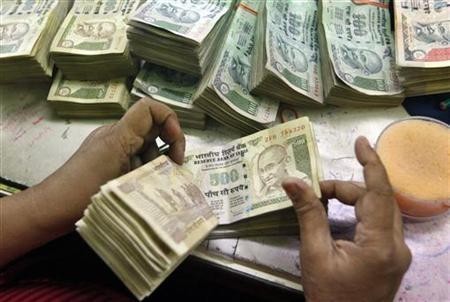 Rupee declined at early trade on Wednesday at 59.32 per dollar against previous day's closing value of 59.29 a dollar. The fall can be attributed to increased demand for American currency at Interbank Foreign Exchange market and absence of major inflows.
RBI purchased and sold 52 securities at eight percent fixed rate at auction held today. This month, RBI purchased $7.85 billion from the market and sold $1.98 billion, reported moneycontrol.
The central bank was a net purchaser of dollars in the initial month of the current fiscal after it bought $5.87 billion from the market.
Moreover, the overnight call money rate opened higher at eight percent compared to yesterday's level of seven percent.
The Central Bank released reference rate for US dollar and Euro today. The value of Rupee and Euro is fixed at 59.3250 and 80.3200 respectively, while corresponding rates for the previous day was 59.2647 and 80.5934. Hence, based on the rate for the US Dollar and the middle rates of the cross-currency quotes, the exchange rates of Pound and Yen against rupee is 99.4168 and 57.99 respectively.
While, the Sensex and Nifty hit all-time high of 25,735.87 and 7,700.05 points on early trade, both index depreciated by 93.39 and 37.75 points respectively during the trading hours on Wednesday at 1:30 pm. The Sensex declined at 25260.53 and Nifty at 7614.70.
Top gainers in Sensex were Infosys, TCS, Cipla, SBI and GAIL, while top losers were DLF, NTPC, BHEL, Tata power and NMDC. Hence, IT and Tech. companies led the market.
Investors are avoiding major positions ahead of the release of Consumer Price Index (CPI) inflation data for May and Index of Industrial Production (IIP) data for April, due by tomorrow, dealers told livemint.
However, at 1:30 pm on Wednesday, Indian currency inclined at 59.30 with 0.00 percent change and JPY, TWD, KRW and IDR appeared to be declining by 0.07 percent, 0.01 percent , 0.14 percent and 0.07 percent respectively. Hence, among 13 Asia-Pacific countries, nine appeared to be inclining and rest witnessed a decline.