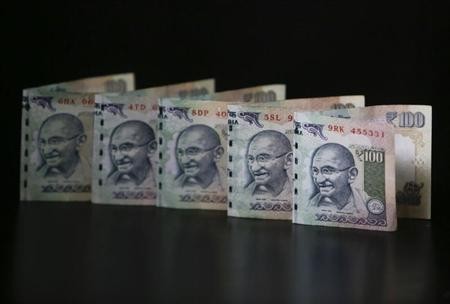 Rupee depreciated by 10 paise at early trade on Tuesday at 59.24 a dollar against Monday's closing value of 59.20, due to increased demand for the US currency from importers.
Besides, dollar's upsurge pulled the euro below 1.36, which affected the Indian currency too. According to traders, higher opening in share market resisted the fall of currency.
Meanwhile, the Sensex and Nifty declined by 148.99 points and 51.45 points respectively. The Sensex declined at 25406.68 and Nifty at 7599.15 at 10:20 am. The index started its day of trading at 9.15 am with 25,572.91 points but immediately recorded a dip of 55.16 points.
''The recent global cues have improved the market sentiments with all asset classes performing. Indian markets have also been a part of this euphoria with huge FII and FDI inflows,'' Ashutosh Raina of HDFC Bank told moneycontrol.
But, at 10:30 am, the rupee inclined at 59.2962 by 0.18 percent. While USD-JPY, USD-TWD and USD-CNY appeared to be declining by 0.20 percent, 0.10 percent and 0.11 percent respectively among 13 Asia-Pacific Currencies. Nine other currencies appeared to be escalating.
''The gains in the USD/INR pair however have been capped by aggressive intervention by the RBI. Expect the 58.50-59.50 a dollar range to continue for some more time,'' he added.
RBI on Monday released reference rate for US dollar and Euro. It is 59.0605 and 80.6160 respectively, as on 9 June. Hence, based on the rate for the US dollar and the middle rates of the cross-currency quotes, the exchange rates of Pound and Yen against the rupee is 99.5161 and 57.85 respectively.
According to Reuters, traders will keep investing in share markets. Foreign inflows brought a net $826.9 million in debt markets on Friday, the highest single day flows since 15 January.
Due to all these factors, Sensex witnessed profit booking at 11 am. However, BSE Midcap and Smallcap fell one percent.