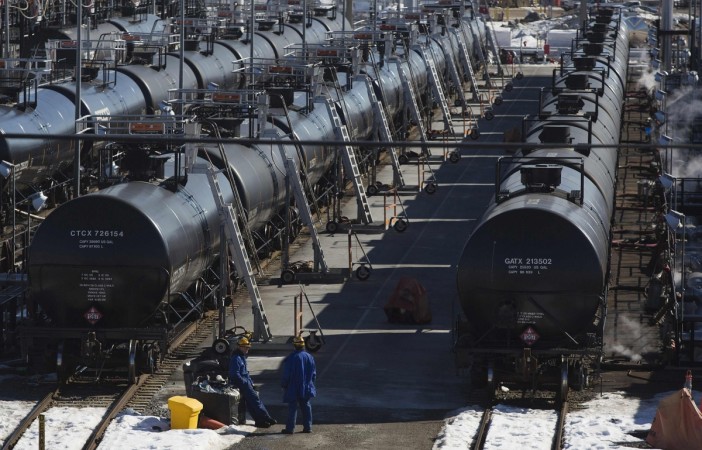 The Indian Rupee declined at 60.3525 a dollar by 20 paise on Tuesday at interbank foreign exchange market. It closed at 60.1550 per dollar on Monday. The rupee has dropped to near two-month lows in early trade.
The RBI sold dollars for 60.49 through state-owned banks to check the rupee's fall, Reuters reported quoting traders on Tuesday.
At 12:30 pm, INR weakened at 60.3600 a dollar, while AUS-USD, NZD-USD and USD-TWD inclined at 0.9354, 0.8670 and 29.9980 per dollar. Rest of the nine currencies among INR declined in the list of 13 Asia-Pacific currencies.
Reserve Bank of India released Reference Rate for dollar and Euro on Tuesday. The value of Rupee and Euro was fixed at 60.3680 and 81.8665 respectively. Hence, based on the rate for the US Dollar and the middle rates of the cross-currency quotes, the exchange rates of Pound and Yen against the Rupee was fixed at 102.4807 and 58.21 on Tuesday.
RBI also sold and purchased 56 securities at a rate of eight percent for ₹210.11 billion during one day repo auction.
Although Indian Government has insisted that there is nothing to worry about the Iraq crises, oil companies rushed to purchase dollars to get in safe zone, as Iraq crises has triggered concerns regarding inflations and current account deficits in India. Iraq is the world's fifth largest country with proven reserves and pumps, and in April 2014, the country was producing almost 3.5 million barrels per day that commensurate about four percent of global supply.
"While much of Iraq's vital energy infrastructure and fields are in Shia-dominated southern Iraq, the negative news suggests the Iraqi government will have trouble controlling the situation," strategists at Barclays said in a note to clients.
The International Monetary Fund has predicted that US economy would not reach complete employment until the end of 2017.
However, foreign investors have helped Indian shares gain 23 percent, selling shares worth 1.94 billion on Monday after three days of buying. Indian government will sell ₹150 billion worth of bonds on 20 June and RBI will auction ₹140 billion worth of treasury bills tomorrow, including ₹80 billion worth of 91 day and ₹60 billion worth of 182-day treasury bills, the Central bank said in a release.
Reserve Bank of India Governor will discuss about financial sector legislative reform commission reports, formed during Congress-led government, which has suggested taking away some functions from RBI like-'management of capital flows'.
At 1.30 pm, Sensex recorded 25,176.22 points with decline of 14.26 points and Nifty recorded 7,540.05 with incline of 6.50 points.
However, BSE index opened at 25,189 points, with a decline of 1.02 points while the Nifty declined by 8.50 points at 7525.05 points.