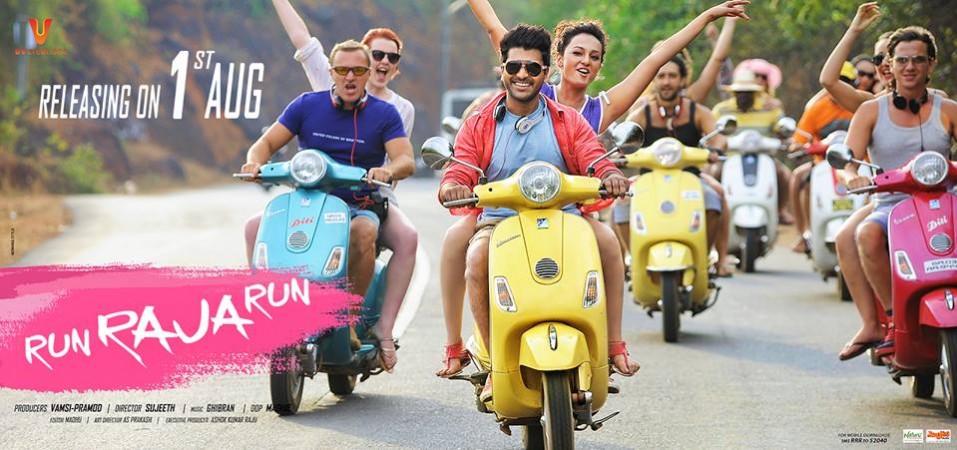 Sharwanand's "Run Raja Run" has received fantastic reviews from critics.
Directed by debutant Sujeeth, "Run Raja Run" is a romantic comedy thriller film with Sharwanand and Seerat Kapoor playing the lead roles. Sampath Raj of "Mirchi" fame and Adivi Sesh are also part of the film's cast. The film's music is composed by Ghibran and the project is produced by Pramod Uppalapati and Vamsi Krishna Reddy.
Plot: Raja (Sharwanand) is on a search for a perfect match for him and in the process he will break-up with most of those girls. One day, he meets Priya (Seerat Kapoor) and falls truly in love with her. Priya is the daughter of Dileep Kumar (Sampath Raj), a police commissioner who has been appointed to deal with the kidnappings happening in town but is unable to solve the cases. When he learns that his daughter is in love with Raja, he assigns him a task to nab the kidnapper in order to marry his daughter. What happens next forms the crux of the story.
Critics have given positive feedback for "Run Raja Run" terming it as an entertaining film. They have appreciated Sharwanand's performance in romantic scenes as well as his comic timing. Other actors have also done their parts well. The film's screenplay, music, twists and turns, and comedy are its major plus points.
Check below the review roundup of "Run Raja Run."
"Run Raja Run is a perfect comeback for Sharwanand. Though the film bogs down a bit after the interval, Sharwanand's stylish and entertaining character, various twists and turns make this film a breezy entertainer. Recommended," according to 123telugu.
"The film is you typical entertainer but in an altogether different format!. It continues to surprise you even until the end with turns & twists!. A fresh subject laced with good comedy & interesting narration!. The 1st half starts on a good note and never there is a dull moment. But as the story unfolds one might feel some slow down in the middle of 2nd half but it continues to surprise the audience with twists later!.," said OM of Andhraboxoffice website.
Performances of the actors: "Sharwanand is brilliant, displaying a charming comic timing and blending with an emotive face that is capable of exuding anything that a movie protagonist would feel, from love to rage and disappointment. Newcomer Seerat Kapoor is a breath of fresh air," said Krish Sripada of Desimartini.
"Adivi Sesh plays his role well. He could really consider this part a coming of age, before heading for bigger things next year. Sampath Raja who was also a part of Mirchi, the previous movie by the makers, gives a powerful performance too," Sripada further stated.
"Run Raja Run is made for urban audience. This film never tried to impress all the sections of audience. So it may disappoint the viewers who are looking for action and other commercial elements. Director keeps it simple throughout the film. Despite having the backdrop of crime, Run Raja Run ends up as pure fun film," according to Gulte.
"Run Raja Run has fun and different content. Sujeeth is a director to watch out for! Nice casting, camera, music and production," Jeevi of idlebrain tweeted.
Verdict: Worth Watching