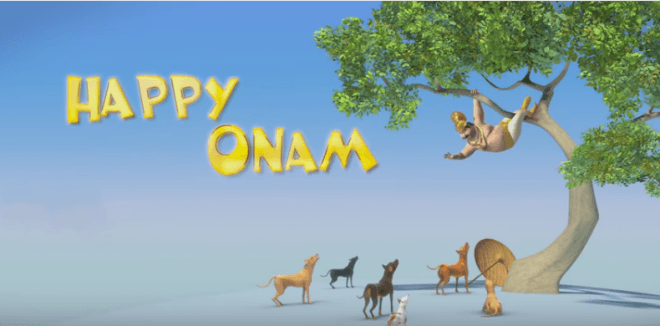 Keralites all over the globe are set to celebrate the harvest festival of Kerala — Onam — on Sept.14 and an animation video titled "Run Maveli Run" has gained the attention of many netizens.
The one-minute-55-second video, which was initially released in 2015 by AdEyes Animation Studio, has recently started doing the rounds on social media.
The hilarious animation begins with Maveli aka Mahabali, who is believed to have ruled Kerala years ago, coming from the netherworld to visit his subjects in the state. It seems like the video suddenly got noticed by social media users as it shows the benevolent Asura King struggling to step his leg on the land due to stray dog menace in Kerala. The modern version Maveli, wearing sunglass, is seen running for his life from the animals.
According to the popular myth, Lord Vishnu sent Mahabali to Paathalam (an imaginary place below the earth) by taking the avatar of Vamana. However, the former ruler is said to have been granted the boon to visit his people once a year and his arrival is being celebrated as a 10-day-long festival in Kerala from Atham to Thiruvonam.
The fun-filled festival, is being celebrated by people belonging to all religions, castes and communities by wearing traditional attires, laying flower carpets (Athapookalam), performing dance (Thiruvathira), having sumptuous feast (Onasadya) and playing games (Onakalikal).
Watch the video here: