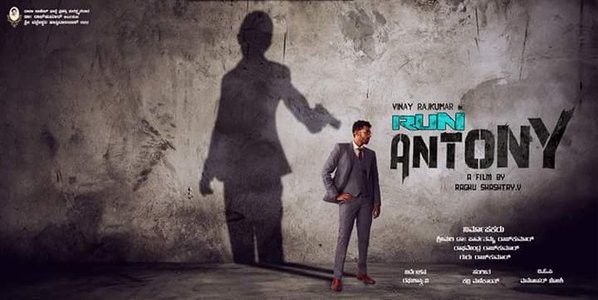 Vinay Rajkumar, who made a successful acting debut in "Siddhartha," is back with his second outing "Run Anthony" aka "Run Antony." He has collaborated with Raghu Shastry, who has written the story and screenplay apart from directing the Kannada film.
Newcomers Sushmita Joshi and Rukhsar Mir have paired up with Vinay Rajkumar in "Run Anthony." Devaraj, Saikumar and many others are in the cast. Manikanth Kadri has scored the music, Manohar Joshi has handled the cinematography and Esham and Haseen Khan have jointly edited the flick.
Interestingly, Vinay Rajkumar's second movie has managed to garner a better pre-release buzz than his first film "Siddharth." The trailer alone has created a lot of hype around the flick and people are curious to see whether the latest flick would join the list of hit movies made by youngsters in the recent years.
"Run Anthony" is a thriller laced with romance that is believed to be about the hero Anthony (Vinay Rajkumar), who is being chased by the situations. The movie primarily focuses on his actions without projecting him as a victim of circumstances. In short, the film tries to convey that behind every mask, there is a face and behind that face there lies a story.
Reviews:
Here, we bring you the audience response to the Kannada film:
Cineloka: #RunAntony - Not up to the expectations . The movie has its moments,the twists and turns are good;but Antony runs slow.
Shyam Prasad: #RunAntony 128 minutes. U certificate.
Still walking in slow motion despite one good twist.
Another unexpected twist at interval. But narrative was slow.
Great expectations belied. #RunAntony disappoints, a few good plot twists notwithstanding.
Sagarâ"¢: #RunAntony First Half Just finished Super twist it is Housefull in Woodlands theater, Mysore.
#RunAntony 2nd half disappoints Cud have been better Unwanted Songs damaged the movie
Its time for #VinayRajkumar to take a Break to Improve his look he never opened his mouth in songs Audience were scolding badly #RunAntony
RaghuSpeaKs: @raghuvaranpspk vinay rajkumar s good...give a try for its cinematography and BGM.. #RunAntony
Dhru_12: #RunAntony visually brilliant..vry gud twists in d interval and climax but a very slow pace...climax disappointing
Razhmi: Seeing improvement in Vinay Rajkumar's performance. #RunAntony
Serious and holding viewers' attention. #RunAntony
Shankar Ganesh: Narration is interesting. Need to keep the same momentum. #RunAntony
#RunAntony 128 minutes. U certificate.