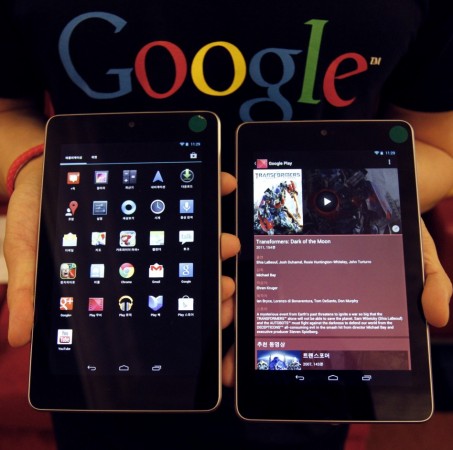 It has barely been a week since Google announced the Nexus 5 smartphone. The search engine giant has now accidentally posted an un-released 8.0-inch Nexus tablet on its website, giving rise to speculations that Google has one more device to launch before the end of 2013.
Google's new Android app site shows a woman holding a tablet with thin bezel and that's not all. The device is also seen working on the newly unveiled KitKat OS, which is currently only available in LG's Nexus 5 smartphone.
This anomaly has given rise to suspicions that this mystery tablet might be the rumoured LG tablet, which was first spotted at the Bluetooth SIG (Special Interest Group) website last week.
The model bears a code name LG-V510 and boasts of Bluetooth v4.0 with HID over GATT (HOGP 1.0) feature, which no Android OS version is seen to support other than v4.4 KitKat OS, reported AndroidOS.in
Many had anticipated that Google would launch the Nexus 10 tablet successor last week along with the Nexus 5, but that never happened. With the new revelations, many now suspect that Google might launch a smaller 8.0-inch model, which is set to directly clash with arch rival Apple iPad Mini segment.
The speculation of 8.0-inch Nexus tablet is spreading like a wild fire, but Google is yet to officially respond to the rumours.