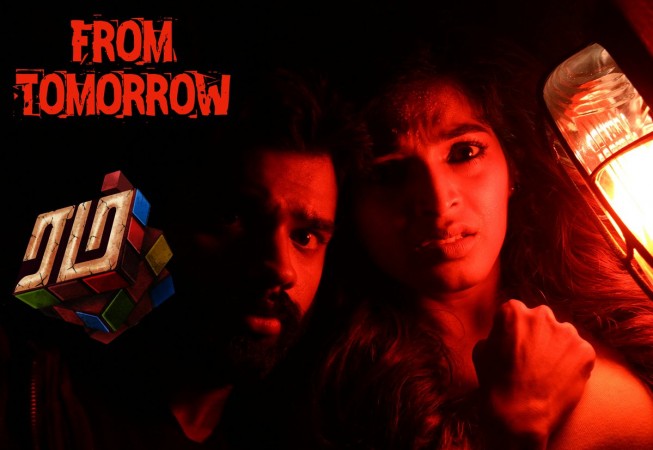 Rum Cast and Crew:
Director
Sai Bharath
Producer
T. Vijayaraghavendra
Cast
Hrishikesh, Sanchita Shetty, Narain, Miya George, Vivekh and others.
Music
Anirudh Ravichander
Cinematography
Vignesh Vasu
Editing
Sathyaraj Natarajan
Release date
17 February 2017
Runtime
-
Rating
-

Hrishikesh, the cousin of musician Anirudh Ravichander and a relative of multifaceted Dhanush, is debuting as a hero in Rum, also known as Ram. The Tamil film is written and directed by Sai Bharath and bankrolled by T Vijayraghavendra.
Rum Movie Review: Hrishikesh had earlier worked in Dhanush's Velaiilla Pattadhari. Although the budding actor had received many offers, he wanted to wait for the "right script" to make his debut. In the movie, Hrishikesh has been paired up with Sanchita Shetty. Narain, Miya George, Vivek and others are also there in supporting roles.
Vignesh Vasu has handled cinematography, while Sathyaraj Natarajan has edited the flick. Anirudh Ravichander has composed the music and Hola Amigo, Alladhe Siragaiye, Peiyophobilia and Kadavulae vidai tracks have struck the chord with audience.
Rum is a horror-heist thriller, which revolves around a bunch of robbers played by Vivekh, Amzath Khan, Arjun Chidambaram, Sanchita and Hrishikesh. They all get stuck in a house and what follows next is the mystery.
The trailer of Rum has been well-received by audience. Will the movie, which is hitting the screens on Friday, February 17, along with seven other Tamil films, too garner the same response? Find it in the viewers' words below:
Abishek S: With a series of loosely connected happenings, #Rum 's first half does kindle an interest! Midpoint hits a high, waiting for 2nd half!
Debutant #Sai has got d writing part nearly drafted, but uninspiring making costs a bit! More of chiseling down cud hav made it better #Rum
Sathish Kumar M: #Rum 1st Half - Vivek comedy dialogues works to good extent. Starts on slow note & picks up during interval. Expecting engaging 2nd half.
#Rum is yet another usual Horror Comedy Revenge story with Anirudh's Music + Vivek's Comedy & engages to some extent
HariWrites: #RumTheMovie half way through #rum, @Actor_Vivek tried hard to ooze comedy. Hopefully horror kicks in soon. So far nt much scary need 2 wait
#rum #RumTheMovie Few mins into the movie, shows promises of pinch of techy heists, horror and drama, plot unfolds @iSanchita @hrishikeshkk
#rum hard to call this a horror movie, revenge drama with little scary & fun. CGI,camera works, dialogues, editing, screenplay falls flat
#rum plus - CGI, BGM and a little twist in tale, minus- comedy, not scary, average screenplay, double meaning. Ok for a one time watch 2.5/5
#RumTheMovie Pluses - CGI, variety in script, Narain, BGM. Minus - Not engaging enough, not enough scary scenes, editing. 2.5/5 #rum
Priyanka: #Rum.......horror laced with thrills...
Kaushik LM: #Rum - Typical horror comedy space, with the flashback, villains & spirits out for revenge. Visually there is some interesting presentation!
#Rum 2nd half - @anirudhofficial's RR, his version of KadavulaeVidai and the corresponding 'reveal' scenes are the standout elements.
#Rum 1st half - After a dramatic, violent interval block, expecting the back story now with #MiaGeorge & her family.
#Rum 1st half - A gang of thieves hide out at a haunted bungalow! @anirudhofficial's songs & @Actor_Vivek's comedy (in parts) entertain