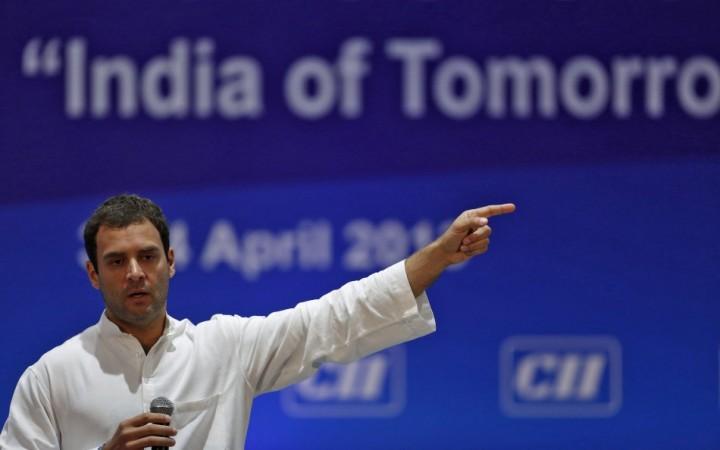 In one of its first scathing attacks on the Modi government that came to power in May, the Congress, particularly its Vice-President Rahul Gandhi on Wednesday accused the government of listening to only "one man's voice."
As the Lok Sabha witnessed a ruckus over the rising communal violence in states such as Uttar Pradesh, Gandhi too stormed the Well of the House with other party members to demand the introduction of the Prevention of Communal Violence (Access to Justice and Reparations) Bill, 2013.
Gandhi maintained his aggression, even outside the Parliament on Wednesday when he told reporters that "only one man's voice is heard" and accused Lok Sabha Speaker Sumitra Mahajan of partiality.
"We are not being allowed to speak in Parliament. We are asking for discussion. There is a mentality in the government that discussion is not acceptable. There is a mood in Parliament that only one man's voice counts for anything in this country," Gandhi told reporters.
He then went on to say, "The Speaker, I mean.. It is completely one-sided, partiality."
Prime Minister Narendra Modi was present in the House when the ruckus broke out by Opposition parties who demanded a discussion on rising incidents of communal violence in the country. Only last week, the communal clashes in Saharanpur in Uttar Pradesh had left three people dead, while the Muzaffarnagar riots last year had left more than 60 dead and thousands displaced.
Mallikarjun Kharge, a Congress leader in the Lok Sabha and other party members had given a notice for an adjournment motion in the Lok Sabha for discussing communal violence. While Mahajan had earlier refused to suspend the Question Hour for the discussion, following an uproar, she finally agreed to the discussion.
Mahajan later told reporters that she was only sticking to the rules and refuted Gandhi's claims of partiality.
Finance Minister Arun Jaitley, in an insinuating rebuttal, called Gandhi's rare agression "pure frustration" and hinted at a "palace coup" for the Congress VP's reaction.
The Bill has been a contentious issue between the Bharatiya Janata Party and the Congress, with the BJP forcing the former UPA government to drop the Bill on February 2014 stating that it was a "threat to India's communal harmony."
Modi had termed the Bill a "recipe for disaster" in a letter addressed to former Prime Minister Manmohan Singh last December, saying that it would breach the domain of the states. The Bill had proposed the formation of the National Authority for Communal Harmony, Justice and Reparation.