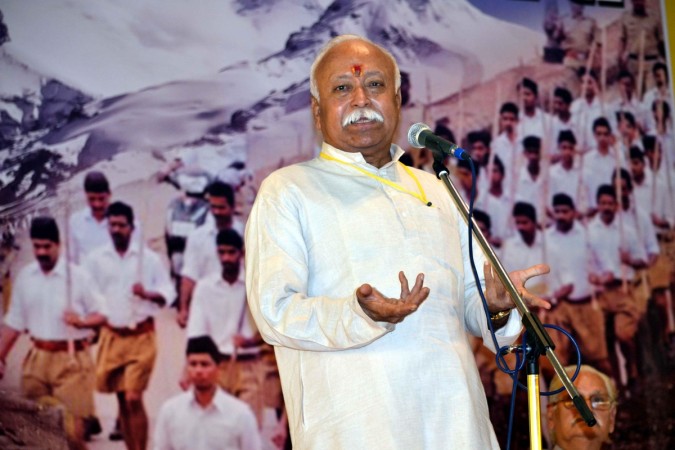 Rashtriya Swayamsevak Sangh chief Mohan Bhagwat has changed his stand on reservation, saying the quota system should continue until social discrimination is wiped out from the society.
Bhagwat, who had sought a review of the quota system ahead of the Bihar Assembly polls, said the RSS was not in favour of removing the reservation policy.
"RSS is of the firm opinion that there is no question of scrapping the reservation system. Reservation in the country should continue as long as social discrimination prevails in the Indian society," PTI quoted Bhagwat as saying.
Many believe that the U-turn by the RSS chief is engendered by the the Bharatiya Janata Party's setback in Bihar.
Bhagwat was delivering a lecture on 'social assimilation' in Nagpur on Wednesday evening.
He said that the social assimilation should start from self and then be widened to the immediate family, extended family and the society.
"This should be done by respecting the diversity in the society, but following the values and philosophy behind the spirit of Hinduism," said the RSS chief.
"No religion, sect, social reformer or saint supported discrimination between human beings. Equality has been the essence at the origin of every sect, which was later divided into castes and sects by us. Discrimination also was born out of behaviour of the people," he added
Bhagwat also called for rejection of traditions that does not comply with the modern scientific parameters.
"In the name of tradition, this discrimination should not be allowed to continue further. The feelings of those who have suffered for thousands of years, must be understood. Some sections of the society tolerated the discrimination and injustice for a long period," Bhagwat said.
"Now, we should also learn to understand and tolerate for some years and bring about the desired change by our own behaviour. Traditions should be tested on modern scientific parameters, and those which fail the tests must be rejected," he added.
He also appealed the audience to study and understand Dr Babasaheb Ambedkar's teachings on social discrimination and equality in depth.