Lamenting that the Hindus have been suffering for thousands of years, RSS chief Mohan Bhagwat has asked them to come together and organise themselves, saying "if a lion is alone, wild dogs can invade and destroy him".
Addressing a gathering of some 2,500 delegates attending the second World Hindu Congress here, Bhagwat, however, said the Hindus have no aspiration of dominance.
"The Hindu society will prosper only when it works as a society," he said on Friday.
"In initial days of our work, when our karkyakartas (workers) used to talk to the Hindus about organising them, they used to say 'sher kabhi jhund mein nahi chalta' (a lion never walks in a group). But even that lion or a royal Bengal tiger who is the king of the jungle, if he is alone, wild dogs can invade and destroy him."
"Coming together of the Hindus is in itself a difficult thing," he said, adding the Hindu society has the largest number of meritorious persons.
Bhagwat said in the Hindu dharma, even a pest is not killed, but controlled. "The Hindus don't live to oppose anybody. We even allow the pests to live. There are people who may oppose us. You have to tackle them without harming them," Bhagwat said.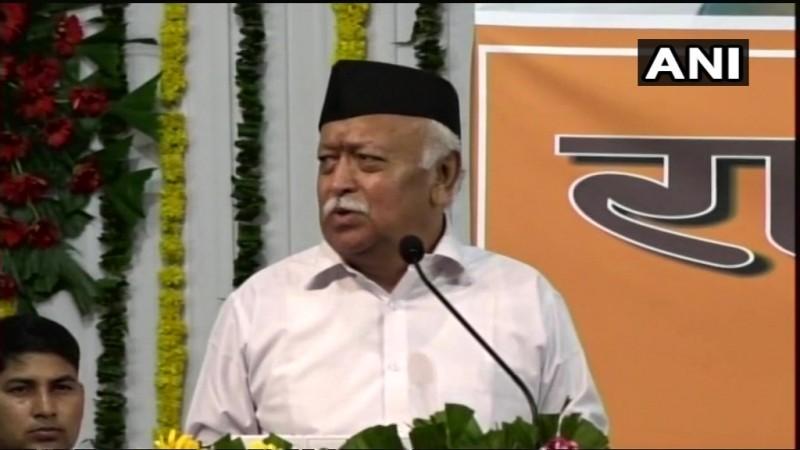 He noted that the Hindus had been suffering for thousands of years because they forgot to practice the basic principles of the Hinduism and spiritualism. He urged the participants to discuss and evolve a methodology to implement the idea of working collectively.
"We have to come together," Bhagwat said, noting that all the people need not register under one umbrella organisation.
"It is an opportune moment. We have stopped our descent. We are contemplating how to ascend. We are not an enslaved, downtrodden nation. The people are in dire need of our ancient wisdom," Bhagwat said.
Bhagwat said a sense of idealism is good and described himself not as "anti-modern", but as "pro-future".
He sought to describe the Hindu dharma as "ancient and post-modern". In this context, he alluded to the war and politics in the Hindu epic Mahabharat and said politics cannot be conducted like a meditation session, and it should be politics.
"To work together, we have to accept the consensus. We are in a position to work together," Bhagwat said at the conference inspired by the Hindu principle 'Sumantrite Suvikrante' or 'Think Collectively, Achieve Valiantly'.
"Our universal values now called Hindu values lead to the welfare of the individual, the society, nature and the environment. It is the duty of the Hindus to remind the world of universal values from time to time," Bhagwat said.
He said the duty of the dharma to human beings should be performed till the world exists. "One of the key values to bring the whole world into a team is to have controlled ego and learn to accept the consensus. For example, Lord Krishna and Yudhishtra never contradicted each other," Bhagwat said.