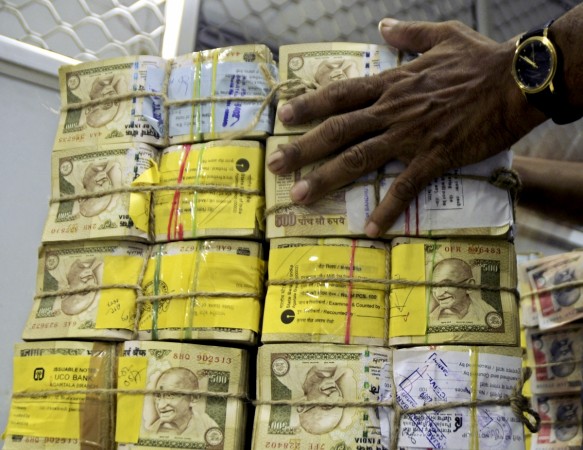 Bringing fresh trouble for the Arvind Kejriwal government in Delhi, the house of an MLA of his Aam Aadmi Party (AAP) was raided on Tuesday by income tax officials, resulting in recovery of unaccounted wealth worth Rs. 130 crore.
Kartar Singh Tanwar, who was earlier with the Bharatiya Janata Party (BJP), termed the raid as "witch-hunt" by the BJP-led NDA government, reported News18.com.
The news channel citing income tax department sources said the raids revealed that Tanwar and his associates was indulging in cash transactions while buying properties in Delhi.
The Chhatarpur MLA's farm house and offices were earlier raided by income tax officials in July, according to a report in the DNA.
Both AAP and BJP are locked in a bitter duel, especially with regard to governance in Delhi, with the former accusing the BJP-led union government of systematically targeting its MLAs and the BJP hitting back saying the party's leader Arvind Kejriwal tries to distract attention from its non-performance.
Kejriwal has been accusing PM Narendra Modi of indulging in vendetta politics. In the recent past, many AAP MLAs have been arrested or booked for various offences, prompting Kejriwal to cry victimhood.
Tanwar was Kejriwal's sought-after politician, tweeted former AAP member and lawyer Prashant Bhushan.
This JE,defector from BJP,now AAP MLA with 100sCr of disp wealth,whose ticket we objected to,was one of AKs Diamondshttps://t.co/vKWDCh0WmX

— Prashant Bhushan (@pbhushan1) August 9, 2016
The Arvind Kejriwal government is also in news for its frequent run-ins with the city's administrative head, Lt Governor Najeeb Jung. In its latest attack, AAP member Kumar Vishwas said Jung was a "threat" to democracy.
"On the one hand, Modiji talks about cooperative federalism while on the other (LG) talks about dismissing the assembly. Such people are a threat to democracy," Vishwas told reporters in Delhi, according to IANS.
It's #DemocracyVSModi pic.twitter.com/HPDoPnzAhF

— Dr Kumar Vishvas (@DrKumarVishwas) August 9, 2016
The Lt General and the AAP government are engaged in a legal tussle, with the latter deciding to appeal to the Supreme Court against a recent Delhi High Court ruling that the Lt Governor was supreme in matters of administration in Delhi.