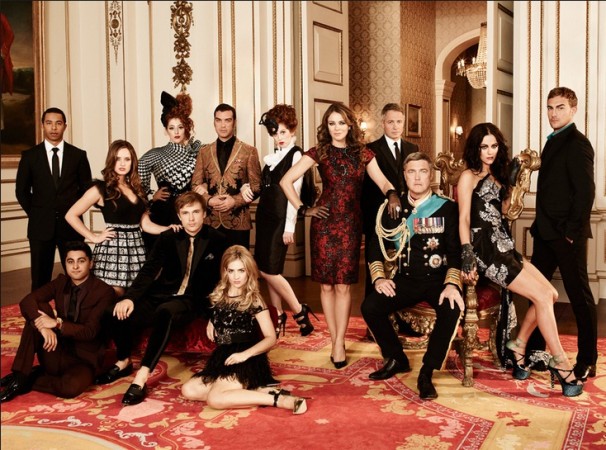 With "The Royals" reaching midway in its first season, the characters seem to have evolved a lot more than what they looked like in the season's premiere.
Though it was earlier revealed that Queen Helena was still seeing his her ex-flame Capt. Alistair Lacey, episode 5 clearly showed that she is intensely involved with him, in a much deeper and physical way. When Helena ducks her masquerade ball to be with him, it is revealed that if her family hadn't gone bankrupt, she would have married the captain to live happily ever after.
Alistair takes this opportunity to tell her that if the referendum is passed, he will vote for it and asks Helena to think about abolishing the monarchy so that "every night could be like this".
Prince Cyrus, the King's brother is equally worried about the the abolishment of the monarchy. So to swing votes in their favour, he lets the House of Lords have some fun with their 'servers', reminding them that if the monarchy ends, these benefits will also cease to exist.
Meanwhile, Princess Eleanor seems to have fallen in love with Jasper and gives in to her feeling for him, as they both have a make-out session in the secret cave. Jasper says he controls the princess because she likes it; so she should obey him and wait for him in her room.
But the Princess reveals that it was just a trick to make Jasper confess that he had no video of hers, and that the blackmail was a lie. Jasper regrets confessing the truth as Eleanor leaves to enjoy her weekend at Monaco.
Prince Liam is stunned to see Ophelia in the masquerade ball and Gemma gives Liam an opportunity to dance with Ophelia and sort everything out because the sooner he realises Ophelia isn't the right girl for him, the faster he will return to her.
Things go the other way when Ophelia tells Nick that she is waiting for her fairytale to come true and Nick leaves the ball as well as her life. Liam seizes this opportunity to ask Ophelia out for the weekend at Monaco and though Ophelia does not say a 'yes' to the proposal, she ultimately makes it to the trip with Liam.
Watch Prince Liam and Ophelia spend their first romantic vacation in Monaco, in episode 6 of "The Royals" titled "The Slings and Arrows of Outrageous Fortune" this Sunday, 19 April at 10 pm on E!